300W MAGE POWERTEC PLUS module leads new high-wattage class; Product and service portfolio rounded off by innovative online training programs at MAGE SOLAR ACADEMY
Dublin (Georgia), January 15, 2013. – MAGE SOLAR, a turn-key provider of optimally coordinated PV solutions, is presenting its newest line of high-wattage modules at PV America East in Philadelphia. From February 5 to 7, visitors can get an exclusive look at the new modules and the company's extensive product and service portfolio, including racking systems, inverters, BOS, as well as financial and educational options at Booth # 701 at the Pennsylvania Convention Center.

Modules: Highest wattages, industry-leading quality and warranties
The brand-new product line of highest wattage MAGE POWERTEC PLUS modules will be on display for the very first time at PV America East. Joining the existing product family of AC and DC modules are a 72-cell 300 W monocrystalline module and 72-cell polycrystalline modules in strengths from 285 W to 290 W. With more Watt per module, the new power classes give installers the distinct advantage of decreased labor costs and installation time. MAGE POWERTEC PLUS modules are backed by the company's industry leading 0 to +5 watt tolerances and MAGE SOLAR's signature 30-year 80% power output guarantee. All modules are CEC, FSEC and UL listed; the US-produced 245 W module is also fully ARRA-compliant.
Mounting Systems: Fewer tools, less time, more savings
As one of the most innovative mounting solutions on the market for pitched roofs and ground mounts, MAGE SYSTEMTEC requires only a minimum of tools. The easy to use click-lock technology is designed out of high-quality extruded aluminum and stainless steel. For large-scale industrial and commercial flat roofs MAGE SOLAR presents a ground-breaking aerodynamic mounting system that is extremely light-weight, non-penetrating and also self-supporting.
Inverters: Multiple solutions from top-brand partners
MAGE SOLAR offers a variety of string inverters, power optimizers, and microinverters from some of the most prominent manufacturers in the world. As a complete system provider, MAGE SOLAR sees its inverter portfolio as a valuable addition into making the most optimally coordinated and best performing PV system available to its customers each time.
Financial Services: From inventory financing to end-user loans
MAGE SOLAR is partnering with several leading financial providers to make sensible financing options available to its customers as part of its turn-key PV-solution portfolio. Installers as well as their end-user clients have the choice between several different loan and financing options.
Training Services: New online formats for busy professionals
MAGE SOLAR ACADEMY is a premier learning facility for PV professionals who want to stay abreast of the latest technologies and best installer practices. Additional course offerings are geared towards supporting service fields such as technical sales, field inspectors, as well as the general public. Now MAGE SOLAR ACADEMY is also offering convenient online classes to allow for a more time-conscious, self-paced learning environment. Several of the classes at MAGE SOLAR ACADEMY quality for NABCEP CECs.
Featured Product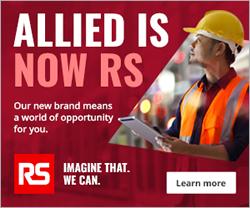 Moxa is a leader in edge connectivity, industrial computing, and network infrastructure solutions for enabling connectivity for the Industrial Internet of Things. With over 30 years of industry experience and 65 million devices connected worldwide, Moxa has a distribution and service network to serve customers in more than 80 countries. Now at Allied-find over 1,000 products from Ethernet switches, protocol converters, routers, and more. Allied Electronics & Automation, part of RS Group & Automation, part of RS Group is an authorized distributor of Moxa.