Company can now help households take control of energy costs through PV solar installations, innovative energy efficiency upgrades and home energy management tools
ROCKVILLE, Md.--Standard Energy Solutions (SES), a Standard Solar company, today announced it has expanded to become a complete home energy solutions company providing home solar, energy efficiency and energy management services throughout the Mid-Atlantic region. With an expanded, renewed focus, SES helps customers take better control of their energy production through holistic product and solution offerings that help empower homeowners to minimize their energy usage.

"We originally launched SES in 2009 to offer simple and dependable energy efficiency improvements through in-depth energy audits and retrofits to improve home energy performance. Late last year it became very clear that households need more than what we were currently offering," explained Scott Wiater, president of Standard Solar and SES. "Beginning today, we can now offer customers a holistic approach to their home energy needs, including solutions for solar, home generators and Smart Home technology to help them maximize control over their energy spend. This is the new generation home energy company."
SES' comprehensive whole home solutions are designed to provide customers with optimal control and comfort, from assessment to project completion. New product offerings and services include:
*Energy Audits - energy audits determine what energy solutions will benefit the customer most and what will truly lower their energy costs.
*Solar Installation - design, installation and maintenance of customized home solar systems, including battery backup.
*Home Generators - whether needed to power key electrical loads or a whole house power solution, SES offers a safe, reliable energy option with its generator solution.
*Energy Retrofits - retrofit management work performed by SES experts including insulation, air sealing and LED lighting upgrades.
*Smart Home - the latest Smart Home technology provide customers with the optimal energy management solution for their home.
For more information about SES' expanded product and services offerings, listen to today's RE:NEW podcast. Follow SES on Facebook www.facebook.com/standardenergysolutions and Twitter @StandardEnergy.
SES is a BPI Accredited Contractor, ensuring its customer's home energy efficiency solutions are installed to the highest standards and participates in the U.S. Environmental Protection Agency and U.S. Department of Energy's Home Performance with Energy Star program. It also employs NABCEP certified engineers, installers and top electricians to ensure the quality of work for its solar installations.
About Standard Energy Solutions
Standard Energy Solutions, a Standard Solar company, provides home energy solutions; exceeding the highest standards in all aspects of home solar, energy efficiency and energy management implementation. The company's team of experts helps customers reduce energy costs by delivering solutions that empower them to have greater comfort in their homes and control over their own energy production and usage. Offering a vast array of products and services to ensure the most cutting-edge energy solutions, Standard Energy Solutions is committed to providing customers with a complete turnkey solution including engineering, installation, financing and system maintenance solutions. For more information, www.standardenergysolutions.com.
About Standard Solar
Standard Solar, Inc. is a leader in the full-service development, construction, integration, financing and installation of solar electric systems. Dedicated to making solar solutions more accessible to businesses, institutions and governments, the company is leading the way to energy independence. Committed to offering responsible and energy cost-saving solar solutions that conform to the highest standards, Standard Solar is one of the most trusted and respected solar companies. Since 2004, Standard Solar has been the partner of choice to make solar energy financially accessible, helping customers through financing options, including Power Purchase Agreements (PPAs) and navigating expanded federal and state and local tax credits. Named one of the Fastest Growing Private Companies in America for three consecutive years by Inc. magazine, Standard Solar is headquartered in Rockville, MD. For more information, please visit www.standardsolar.com.
Featured Product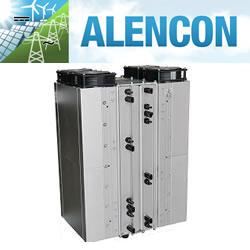 Alencon Systems is the premier manufacturer of high power, high voltage DC:DC optimizers for alternative energy applications including solar, battery energy storage, Microgrids, Fuel Cells and Electric Vehicle charging. Alencon's DC:DC converter offerings include the SPOT, BOSS and CUBE series DC:DC converters. The SPOT is a modular, uni-directional DC:DC solution ideal for solar applications. The BOSS is a modular, bi-directional unit for use with battery energy storage. The CUBE is a monolithic DC:DC converter which is available in both uni-directional and bi-directional modalities. Pictured above, is the Alencon SPOT.