New development kit unveils the full benefits of Anagear's ANG101x ultra-low power standby mode controllers
Rosmalen, the Netherlands January 16, 2013

Anagear, specialists in ultra-low power semiconductor solutions, today announced the introduction of the ANG101x Development Kit. The kit gives system developers a quick and easy way to become familiar with the features and benefits of the company's innovative ANG101x family of power management ICs. Through the kit, developers can rapidly evaluate how ANG101x ICs can help them save energy in their system and speed the development of new battery and solar harvesting powered applications.
"Our power management ICs are the ideal solution wherever nano-amps matter. They enable much lower average system currents so manufacturers can use smaller batteries, extend battery lifetimes or switch to alternative energy sources. With the new development kit, we aim to help customers develop new mobile, portable and self-powered applications more easily and bring them to market faster," said Guus Dhaeze, vice president, sales and marketing, Anagear.
The new development kit contains an evaluation board complete with a photovoltaic panel plus a full set of documentation including datasheets and user manual. When connected to a Windows PC, a user-friendly interface allows ANG101x register settings to be adjusted and the effect immediately observed. Also, access to the on-chip EEPROM allows default settings to be tailored to the specific application. ANG101x behavior can be monitored through external measurement equipment. Power is supplied from an on-board battery, or an auxiliary supply source such as that from the PC's USB port.
Available for ordering via sales(at)anagear(dot)com the ANG101x Development Kit is priced at US$ 295.00.
About the ANG101x power management IC family
Anagear's power management ICs introduce a new approach to reducing system power. In addition to ensuring efficient operation when the system is active, they provide an ultra-low power (< 500 nA) standby mode and a 50 nA deep-sleep mode. The solutions also deliver efficient voltage conversion and programmable output voltage scaling, along with autonomous monitoring of system critical parameters and remaining energy levels. As a result, they significantly extend battery lifetimes and open up the possibility of self-powered systems using energy harvesting. For example, the ANG1010 incorporates extensive functionality for managing solar harvesting, and is optimized for indoor solar panels.
Anagear's ANG101x power management IC family includes:
ANG1010 power management and supervisory controller for battery- or photovoltaic-powered ultra-low power systems
ANG1012 power management and supervisory controller ultra-low power systems
ANG1014 power management controller for battery-powered low power systems
About Anagear
Established in 2009, Anagear is a privately held, mixed-signal semiconductor company offering innovative, fully integrated solutions for electronic systems where ultra-low power consumption is mandatory. From its company headquarters in The Netherlands, Anagear develops and markets smart power management components that significantly extend the battery lifetime of (portable) electronic equipment. In combination with built-in, optimized energy harvesting capabilities and efficient energy storage management, Anagear's products also enable clean-tech and environmental friendly applications powered by alternative energy sources. Because Anagear's products are user-configurable they fit a wide variety of different applications that include building automation, security, wireless sensor nodes, industrial, automated metering, portable health care and self-powered equipment.
For more details, please go to http://www.anagear.com.
Featured Product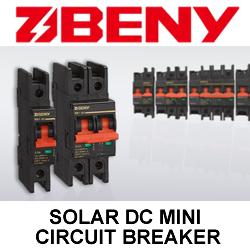 The BB1-63 modular miniature circuit-breakers can be used in solar DC circuits up to 1200 VDC (4-poles execution). Application in solar DC circuits, battery energy storage systems and UPS. Arc flash barrier design keeps solar equipment more safe and reliable. For DC circuit over-current protection.