November marks eighth consecutive monthly decrease year-over-year
WASHINGTON, D.C., Jan. 21, 2013 – U.S. imports of illegally subsidized and dumped crystalline silicon solar cells and panels from the People's Republic of China fell to their lowest level in at least two years in November, even amid the peak, year-end selling season, according to federal statistics. Total Chinese imports valued at $50.5 million in November, down from $75 million in October, were less than a fifth of the $278 million total from October 2011, according to the U.S. Census Bureau's "U.S. Imports of Merchandise" database.

The declines in Chinese imports reflect the market's growing recognition of the costs and risks associated with importing Chinese solar products in light of the recent imposition of anti-subsidy and anti-dumping duties on them, according to the Coalition for American Solar Manufacturing (CASM). The coalition of 231 U.S. employers of 18,268 workers was founded by U.S. producers and joined mostly by downstream operators such as installation firms, who back sustainable, domestic solar manufacturing and free, open and fair competition.
Chinese imports were on pace to end 2012 about a third lower than in 2011, the federal data show.
Through November, Chinese cell and panel imports totaled about $1.7 billion, down from $2.4 billion for the same period of 2011, a decrease of about 30 percent, according to the Census data.
Duties ranging from about 24 percent to more than 250 percent went into effect on Dec. 7. However, those tariff rates, based on import pricing and production costs in 2011, will not be finalized for more than a year, according to CASM. If the U.S.
Department of Commerce determines that Chinese pricing subsequently fell more than equivalent market-economy production costs for those imports, final duty margins for imports landed after Dec. 7 will increase, CASM said.
The duties resulted from trade cases in which petitioner SolarWorld proved that the Chinese government has underwritten more than a dozen categories of illegal, export-oriented subsidy programs and its solar-manufacturing industry has sold at illegally dumped, or artificially low, prices in the U.S. market to seize market share, according to CASM. The campaign, the coalition said, has now forced more than 25 U.S. producers to shutter or downsize, putting thousands of employees out of work.
"The tide of the Chinese government's intervention in the U.S. solar market is showing signs of receding," said Gordon Brinser, president of SolarWorld Industries America Inc., based in Oregon. "The relief could not come too soon. Workers for most manufacturers have suffered widespread cuts, and the finances of Western and Chinese companies alike have fared poorly. Unlike Chinese counterparts, however, the strongest non-Chinese operators cannot depend on their government to prop them up as they endure the consequences of China's illegal trade practices."
CASM said it continues to work with U.S. Customs and Border Protection to prevent, detect and stop any circumvention of the import duties and to make sure that any circumventing merchandise is subject to the new duties in addition to the many penalties that also might apply.
The Coalition for American Solar Manufacturing, founded by seven companies that manufacture solar cells and panels in the United States, includes 231 employers of about 18,268 workers who have registered their support for CASM's case. The founding manufacturers have plants in nearly every region in the United States, including the Northwest and California, the Southwest, Midwest, Northeast and South and support several thousand U.S. manufacturing jobs. For details about CASM, go to www.americansolarmanufacturing.org; email media questions to media@americansolarmanufacturing.org; other questions or comments may be emailed to contact@americansolarmanufacturing.org.  
Featured Product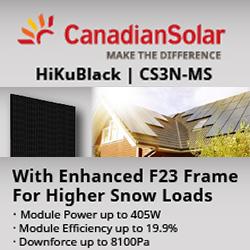 Aesthetic appearance for residential systems: With black backsheet & black frame, Power range 380 ~ 405 W, Low power loss in cell connection. Enhanced reliability: · Low temperature coefficient (Pmax): -0.34 % / °C, LID LeTID less than 2.0%, Lower hot spot temperature, Better shading tolerance.