Strategic Materials Advisory Council Urges CFIUS to Follow President's Mandate
WASHINGTON--The Strategic Materials Advisory Council today urged the Committee on Foreign Investment in the United States (CFIUS) to follow the words of President Obama's Second Inaugural Address and refuse to hand over critical technology to other countries.

In his Inaugural, the President said, "The path towards sustainable energy sources will be long and sometimes difficult. But America cannot resist this transition; we must lead it. We cannot cede to other nations the technology that will power new jobs and new industries – we must claim its promise."
"The President could have been reading from our own public statements about the transfer of advanced battery technology to a company owned by one of China's richest and most politically-connected individuals," said Council Co-Chair, former Army Acquisition Executive, Dean Popps.
"With more than $250 million in federal and state grants, it appears A123 Systems advanced the technology of lithium-ion batteries by at least a decade," Popps said. "What's more, the grounding of the entire Boeing 787 fleet over concerns with its lithium-ion battery technology shows just how vital this technology will be in the 21st century."
"This is exactly the science the President was talking about: technology that will power the jobs and industries of tomorrow by powering our electrical grid and our communications system. Even more central to the President's concerns, this science will power our satellites, unmanned military drones and our soldiers in the field. This highly sensitive technology with key military applications should not be handed over to China. American taxpayers own this technology; we paid for it and, like the President said, we should claim its promise."
CFIUS, headed by Obama's outgoing Treasury Secretary, Timothy Geithner, is in the process of reviewing the transfer of A123 Systems' technology to the Shanghai-based Wanxiang Group in a bankruptcy sale. Wanxiang's founder and CEO is Chinese billionaire Lu Quanqiu, China's 18th richest man and a 44 year member of China's National People's Congress.
In a maneuver described as "novel," Wanxiang has established an "independent trust" to buy a majority of A123's assets while awaiting a decision from CFIUS. "This 'trust' mechanism shouldn't fool anyone," Popps noted, "at the end of the sale, this technology will still be Chinese-owned unless CFIUS follows the mandate in today's Inaugural address."
About the Council
The Strategic Materials Advisory Council is a coalition of former U.S. Government leaders and industry experts who have significant experience with strategic and critical materials through decades of service in the public and private sector. The Council was formed with the clear objective to promote policy solutions that ensure continued access of both U.S. industry and military to those materials needed to support a robust 21st century economy and military.
Featured Product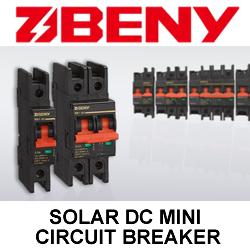 The BB1-63 modular miniature circuit-breakers can be used in solar DC circuits up to 1200 VDC (4-poles execution). Application in solar DC circuits, battery energy storage systems and UPS. Arc flash barrier design keeps solar equipment more safe and reliable. For DC circuit over-current protection.