SMA Solar Technology received almost one-third of the votes
Wellingborough, UK, 21st January 2012 – A new survey conducted by IMS Research (now part of IHS Inc. (NYSE:IHS)) of more than 400 photovoltaic (PV) inverter purchasers has revealed that the most preferred PV inverter brand globally in 2012 was SMA Solar Technology. IMS Research's recently released report PV Inverter Customer Survey – World - 2013 analyses the results of the survey and reveals the reasons behind PV inverter customers' choice of supplier and product.

In total, 74 brands were mentioned in survey responses, which was a significant increase from the number mentioned just one year ago. SMA Solar Technology received almost one-third of the votes and ranked as the number one preferred brand in Germany, Italy, U.K. and the U.S. Globally, the top four brands have not changed over the past year. However, there were several new entrants to the top 10, including two U.S. suppliers - Advanced Energy and Enphase.
The survey also highlighted the importance of warranty and aftersales service plans for customers, with more than 90 percent of respondents indicating that they are 'important for most projects' or 'critical for all projects.' According to the customers surveyed, the most important service offered from a manufacturer was extra fast response time in service cases, followed by remote system monitoring. "Considering the highly competitive nature of the PV market, attractive warranty and service offerings, and a good reputation for offering excellent after-sales support is becoming a highly important way in which PV inverter suppliers can strengthen their brand and gain market share," commented Sam Wilkinson, manager of IMS Research's PV inverter and BoS research and analysis.
PV inverter suppliers were also ranked by respondents as to which suppliers offer the most attractive warranty and service plans. Once again, SMA Solar Technology ranked first with more than 35 percent of the votes, followed by Fronius. New entrants in the top 10 included U.S. microinverter supplier, Enphase, and Kostal.
In total, more than 400 purchasers of PV inverters including distributors, installers, integrators, EPCs and wholesalers were surveyed by IMS Research to understand more about their requirements when choosing an inverter and a supplier. The results have been published in IMS Research's new report PV Inverter Customer Survey – World - 2012 which is available immediately.
About IHS (www.ihs.com)
IHS (NYSE: IHS) is the leading source of information, insight and analytics in critical areas that shape today's business landscape. Businesses and governments in more than 165 countries around the globe rely on the comprehensive content, expert independent analysis and flexible delivery methods of IHS to make high-impact decisions and develop strategies with speed and confidence. IHS has been in business since 1959 and became a publicly traded company on the New York Stock Exchange in 2005. Headquartered in Englewood, Colorado, USA, IHS is committed to sustainable, profitable growth and employs more than 6,000 people in 31 countries around the world.
About IMS Research (www.imsresearch.com)
IMS Research, recently acquired by IHS (NYSE: IHS), is a leading supplier of market research and consultancy to over 2500 clients worldwide, including most of the world's largest technology companies. Established in the UK in 1989, IMS Research now has dedicated analyst teams focused on the factory automation, automotive, communications, computer, consumer, display, financial & ID, LED & lighting, medical, power & energy, solar PV, smart grid and security markets. Currently publishing over 350 different syndicated report titles each year, these in-depth publications are used by major electronics and industrial companies to assess market trends, solve marketing problems, and improve the efficiency of their businesses.
Featured Product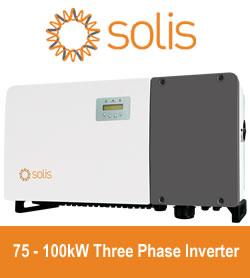 Solis75kW - 100kW series high-power string inverters are widely used in industrial and commercial rooftops. Solis's new three-phase string inverter is the first choice for industrial and commercial photovoltaics. 75-100kW three phase series string inverter have Maximum 28 strings input, support "Y" type connection in DC side. Maximum string input current 13A, support bifacial modules access.Supports anti-PID function to improve system efficiency.