– Solar Energy World has completed the installation of a solar electric system at Boarman's Old Fashioned Meat Market in Howard County, Maryland. The 204.96kW system is projected to reduce the grocer's carbon emissions by 560,000 pounds, and to generate revenue in the form of energy credits.
Solar Energy World Brings Sustainability to Iconic Howard County Meat Market

Maryland based solar power solution will reduce carbon footprint, and generate revenue.
Howard County, MD (January xx, 2013) – Solar Energy World has completed the installation of a solar electric system at Boarman's Old Fashioned Meat Market in Howard County, Maryland. The unique, food, beer and wine retailer that has been serving customers for over 50 years selected Solar Energy World to design and install a solar system that will not only reduce the store's carbon footprint, but is projected to generate revenue in excess of $75,000. The 204.96kW Solar Photovoltaic System, which took one month to install, will also reduce Boarman's carbon footprint by 560,000 pounds.
According to Don Myers, Commercial Analysis Manager for Solar Energy World, the Boarman's solar system will produce revenue in two ways; direct energy replaced and through energy credits revenue. The system is directly tied to the market's electric meter, and excess production will flow back to the grid to be stored as credit against future electricity consumption.
"We're very proud that we are helping our community by pumping energy back into the grid, as well as saving money on our building's electricity bills and earning credits and rebates," says George Boarman, owner of Boarman's meat market. "We hope our customers will take the time to look at our place's system and call Solar Energy World to find out if their home or business is solar eligible. It's worth it."
Myers adds a word of caution, "If a business owner or homeowner is considering solar, we would suggest that they purchase or lease a system as soon as possible, as some of the tax credits and subsidies that assist in offsetting out-of-pocket costs could be discontinued, soon."
About Solar Energy World
Solar Energy World is the Maryland area's leading provider and installer of solar power systems. The company's installation team has more than 75 years of combined experience in roofing and electrical work. Solar Energy World is dedicated to saving our environment and improving the quality of all our lives, and believes that solar power lights our way to a better future.
About Boarman's Old Fashioned Meat Market
Boarman's Old Fashioned Meat Market, located in Highland, Maryland, offers customers the chance to step back in time to a small store that is able to give them exactly what they want. With the ability to provide customers with anything that can "swim, walk, or fly," in the meat department, the family owned and operated store has been serving local residents for over 50 years with items from simple home and grocery necessities to large catering and party orders including deli platters, beer, wine, and liquor.
Press Contact: Samantha M. Cole
smajka@solareworld.com
410.579.2009
Featured Product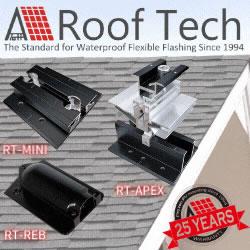 Now Roof Tech brings you the most innovative, watertight mounting systems ever developed for solar photovoltaic systems. Designed and manufactured exclusively for us by Japan's longtime leader in roofing technologies, Roof Tech products are 100% code-compliant and offer fast, simple installation and huge savings on shipping costs due to their compact, rail-less design. Learn more about our full line of versatile PV mounting solutions now available for residential installations. The next generation in rooftop solar mounting solutions."