Tentec Training, a specialist provider of training and competence assurance programmes in the assembly and tightening of bolted connections appoints Glenn Dixon as Technical Supervisor.
Tentec Training, an ECITB Approved Provider of training and competence assurance programmes in the assembly and tightening of bolted connections is pleased to announce the appointment of Glenn Dixon as Technical Supervisor. Well known throughout the oil and petrochemical industries, Glenn brings with him over 30 years of bolting expertise and has worked with Tentec since October 2012 as a Trainer.

As well as managing all the training courses within the UK, Glenn will be working with Tentec's global distributor network to expand opportunities throughout the world. " I have travelled extensively in my previous engineering roles and have knowledge of a wide range of bolting applications in all environments and extremes." explains Glenn. "Using this expertise I will be able to design training courses that exactly meet our customers' requirements." Tentec can provide training either in a classroom environment or on site.
A unique aspect of Tentec's approach to training is that not only are the trainees taught academic and practical skills, but the course also prepares them for working away from home for long periods of time and how to handle the extreme circumstances they may find themselves in. "All our trainers have had hands-on engineering experience and so can help with the 'non-engineering' aspects too. We pride ourselves on how we look after our trainees and ensure we follow-up after the courses to make sure we have covered all areas."
Information on Tentec Training is now available either as a full-colour printed brochure, or downloadable from the website at http://www.tentec.net/training.php
- ends -
Further Details: Paul Egginton. Tentec Ltd. Plymouth House. Guns Lane, West Bromwich, West Midlands B70 9HS. Tel: + 44 (0) 121 524 1990 Fax: + 44 (0) 121 524 1999
E-mail: sales@tentec.net Web: http://www.tentec.net
Twitter: http://twitter.com/tentec_offshore
UK Press Contact:
Eileen Holmes-Ievers. In Press Public Relations Ltd. St John's Chapel, High Street, Lambourn, Berkshire. RG17 8XL. Tel. +44 (0)1488 674200
E-mail: eileen@inpress.co.uk http://www.inpress.co.uk Twitter: http://twitter.com/InPressPR
226TEN
January 24, 2013
Featured Product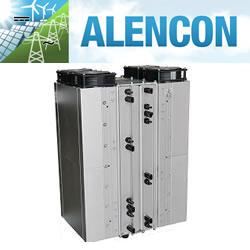 Alencon Systems is the premier manufacturer of high power, high voltage DC:DC optimizers for alternative energy applications including solar, battery energy storage, Microgrids, Fuel Cells and Electric Vehicle charging. Alencon's DC:DC converter offerings include the SPOT, BOSS and CUBE series DC:DC converters. The SPOT is a modular, uni-directional DC:DC solution ideal for solar applications. The BOSS is a modular, bi-directional unit for use with battery energy storage. The CUBE is a monolithic DC:DC converter which is available in both uni-directional and bi-directional modalities. Pictured above, is the Alencon SPOT.