GoGreenSolar.com is the first PV company to adopt Bitcoin, an innovative payment system, for the residential and commercial solar PV market.
Placentia, CA January 23, 2013

GoGreenSolar.com has just unveiled a new payment system it believes will make solar PV energy even more accessible for both residential and business users. The California-based solar solutions provider has recently added open source digital currency, Bitcoin, to its growing list of online payment options – a line-up that already included MasterCard, Visa, AmEx, Discover, and PayPal.
Established in 2009, Bitcoin is a digital, peer-to-peer crypto-currency system in which users can send and receive instant payments to anyone in the world – anywhere in the world. With no centralized authority or top-down control, Bitcoin allows users to avoid many of the traditional transaction fees and currency exchange commissions normally associated with online purchases.
This recent announcement represents the first time a solar energy provider has allowed customers to purchase new products using the increasingly popular Bitcoin payment system. GoGreenSolar.com believes the online P2P technology will become more mainstream amongst those who champion open source principles, equality, and sustainability.
According to GoGreenSolar.com CEO, Deep Patel, "Solar energy is about decentralized, micro-generation. No one owns the sun, yet everyone benefits from it." He adds, "We wanted a payment delivery system that mirrored this open, distributed philosophy – no central entity controls the Bitcoin economy, and everyone can benefit from its use."
Although GoGreenSolar.com has only recently introduced Bitcoin as an official payment system for its premium line of solar PV products, the response thus far has been promising.
"We simply wanted to make it easier for people to go off the grid and embrace free, clean energy from the sun," comments Patel. "But the new offering has developed an instant following – especially with those eager to avoid traditional financing arrangements and miscellaneous fees."
To learn more about GoGreenSolar.com's recent partnership with Bitcoin or to browse its line of high quality solar-related products and LED accessories, visit: http://www.gogreensolar.com.
About GoGreenSolar.com
GoGreenSolar.com is a value-added supplier of renewable energy products, technical support, and financing services to help you go green. As a licensed C-10 contractor, GoGreenSolar.com has guided homeowners, contractors, businesses, and utilities through the entire solar PV installation process. By harnessing free energy from the sun, GoGreenSolar.com remains committed to building a cleaner and more sustainable world for future generations. Join us in this mission today.
Featured Product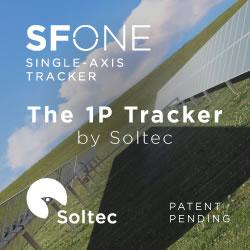 SFOne is the 1P single-axis tracker by Soltec. This tracker combines the mechanical simplicity with the extraordinary expertise of Soltec for more than 18 years. Specially designed for larger 72 an 78 cell modules, this tracker is self-powered thanks to its dedicated module, which results into a lower cost-operational power supply. The SFOne has a 5% less piles than standard competitor, what reduces a 75% the labor time.