We applaud Governor Brown for advancing policies that promote clean energy innovation, create jobs, protect the environment, and help ensure our nation's energy security and independence.
WASHINGTON, DC – In his State of the State address, California Governor Jerry Brown today discussed California's ambitious energy goals, aimed at accelerating deployment of solar and other renewable resources. In his speech, the governor underscored that California is on track to reach – and potentially exceed -- its Renewable Portfolio Standard (RPS) goal of 33 percent by 2020.

By restating his strong support for a 33 percent RPS target, Governor Brown continues California's efforts to grow its robust, sustainable clean tech economy, provide additional certainty to solar developers, attract new private investment, add thousands of new jobs, improve reliability of the electric grid, and reduce air pollution. With this stepped-up commitment, additional solar firms throughout California will be in a position to further their growth. Fast-growing solar companies throughout the state have greatly expanded their presence since 2001.
"With this ambitious renewable portfolio standard, California is setting an example for the entire nation – while realizing the benefits of an expanded clean energy economy," said Carrie Cullen Hitt, senior vice president for state affairs at SEIA. "We applaud Governor Brown for advancing policies that promote clean energy innovation, create jobs, protect the environment, and help ensure our nation's energy security and independence. This RPS target demonstrates California's standing as our nation's leader in solar deployment. The state's forward-thinking energy policies ensure that solar continues to be an increasingly significant component in the state's –and our nations'– energy portfolio, one that helps contain electricity costs for families and businesses."
Thanks to California's successful solar initiatives, including the California Solar Initiative (CSI), state residents and businesses can leverage incentives to deploy solar power systems. Additionally, solar customers can sell any unused power back to an electric company.
"Governor Brown has been at the forefront of renewable energy since his first term as governor. For decades he has led the way in working to make the Golden State a leader in clean energy innovation. California's ambitious RPS will continue to result in exponential job growth, stabilized electricity costs, and an improved regional environment. Expanding deployment of solar and clean energy in California not only cuts greenhouse gas emissions, but it also frees the state from the volatile pricing of fossil fuels," added Cullen Hitt.
California is currently ranked first among states in terms of installed solar capacity with 2,438 megawatts (MW) deployed, according to the latest U.S. Solar Market Insight® report There are approximately 43,700 solar professionals working at 1,505 companies in California. Since the end of 2009, cumulative installed solar photovoltaic capacity in California has increased by over 191 percent: from 712 MW to more than 2,074 MW. This growth rate is among the fastest in the nation.
America's solar industry now employs more than 119,000 workers at 5,600 companies – most of which are small businesses spread across every state in the union.
Background Resources:
- Solar Energy Industries Association California solar facts
- Solar Energy Industries Association: Renewable Portfolio Standards
- Transcript of Gov. Brown's 2013 State of the State address
About SEIA:
Established in 1974, the Solar Energy Industries Association® is the national trade association of the U.S. solar energy industry. Through advocacy and education, SEIA® is building a strong solar industry to power America. As the voice of the industry, SEIA works with its 1,000 member companies to make solar a mainstream and significant energy source by expanding markets, removing market barriers strengthening the industry and educating the public on the benefits of solar energy. Visit SEIA online at www.seia.org.
Featured Product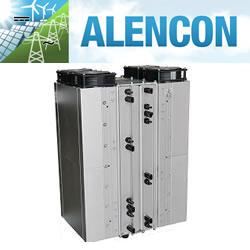 Alencon Systems is the premier manufacturer of high power, high voltage DC:DC optimizers for alternative energy applications including solar, battery energy storage, Microgrids, Fuel Cells and Electric Vehicle charging. Alencon's DC:DC converter offerings include the SPOT, BOSS and CUBE series DC:DC converters. The SPOT is a modular, uni-directional DC:DC solution ideal for solar applications. The BOSS is a modular, bi-directional unit for use with battery energy storage. The CUBE is a monolithic DC:DC converter which is available in both uni-directional and bi-directional modalities. Pictured above, is the Alencon SPOT.