Presenting a complete range of services in the field of offshore and onshore wind power, TÜV SÜD and PMSS will attend the EWEA Annual Event in Vienna. At their first joint appearance at the EWEA, Stand H 50, Hall A, TÜV SÜD and PMSS will showcase the strength of their combined service portfolio.
"The acquisition of PMSS has brought us closer to our goal of becoming one of the world's leading service providers for the renewable and especially the wind-power industry", says Dr Boris Gehring, CEO of the Industry Service division at TÜV SÜD AG. Based on the extended service portfolio, the experienced and technically qualified experts at TÜV SÜD and PMSS can now offer their clients complete and customised solutions that deliver tangible results and tangible value-added.

The potential of offshore wind power in Europe is enormous, and being increasingly explored throughout the world. "Following improvement of the legal framework conditions, the industry is also regaining momentum in Germany", explains Alexander Heitmann, Head of Offshore Wind Services at TÜV SÜD Industrie Service GmbH in Hamburg. The offshore specialists of TÜV SÜD Industrie Service place great importance on supply chains, quality assurance, risk analyses and certification. Project risks are analysed in detail and the complex processes are coordinated and aligned right from the start of a project, in the planning phase. Alexander Heitmann: "This approach needs a diversified partner that can offer integrated support for large-scale projects."
TÜV SÜD acquired PMSS in 2012, significantly extending its renewable energy service portfolio. PMSS is a global consulting firm that has worked exclusively in renewable energy since 1994. PMSS is the trusted advisor to some of the world's leading renewable power businesses and institutions providing products, services and insights to private, public and independent-sector organisations. Until now, PMSS has delivered support services to in excess 50,000 MW of offshore projects across Europe, Asia-Pacific and North America. "The combined people, intellectual capital and front-line experience of PMSS and TÜV SÜD are now utilized to provide first-class services and enduring results for our clients and their projects", underlines Alan Chivers, Divisional Director of PMSS.
Large potential for the expansion of onshore wind power
Technological improvements of wind turbines and hub heights of 140 metres and more have also resulted in a significantly higher number of potential sites for onshore wind farms. "Due to increasingly high towers and large rotors, developing profitable wind farms has now become possible even at sites with low wind speed conditions and difficult topography", reports Dr Martin Webhofer, Head of the Certification Body for Wind Power Systems at TÜV SÜD Industrie Service. However, compared to wind farms in lowland areas, these sites involve more complex cost-benefit analyses. "To ensure the long-term profitability of a project, the stakeholders need reliable predictions of the relation between wind energy yields that rise with hub height and the investments involved", says Dr Webhofer.
TÜV SÜD's experts assess the specific conditions at a planned wind-farm site and measure wind speed and direction in accordance with the standards. A wind measurement mast combined with cutting-edge laser methods (LIDAR systems) supplies the data required for the prediction of energy yield, cost-benefit analysis, and expert opinions on extreme wind conditions and turbulence. The experts use high-performance 2D or 3D simulations in preparing their reports. Early review of wind-farm plans, components and systems and independent third-party certification provide additional certainty.
Featured Product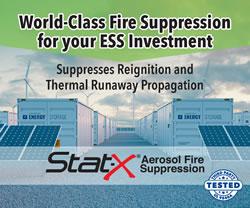 Stat-X® condensed aerosol fire suppression is a solution for energy storage systems (ESS) and battery energy storage systems (BESS) applications. Our Stat-X condensed aerosol fire extinguishing product was tested for efficacy in suppressing li-ion battery fires. It was found that the product successfully extinguished single and double cell battery fires. This testing was conducted in parallel with a large battery fire testing program on behalf of a large energy storage company.