Energy Reduction Asset™ (ERA) Market Tool provides analysis, reporting and guidance around untapped demand response energy value streams
January 29, 2013, Bedford Hills, NY - Joule Assets, a leading provider of energy market analysis, tools and financing, today announced the availability of its Energy Reduction Asset tm (ERA) Market Tools. A proprietary software platform, this technology will provide accurate, current and unbiased analysis of market cash flows nationwide. This is the first of a series of offerings, with the first solution centering on the demand response industry. Future releases will target categories including energy efficiency, renewable energy and carbon reduction.

"Bringing our clients value through Energy Reduction is a core component of our corporate strategy," said David Unger, COO of US Energy Group, an engineering and energy management controls company. "The insights Joule's ERA Market Tool gives us translate into business models that we can utilize to deliver more value for our clients. We are excited by the opportunities this brings US Energy in engaging with new clients and expanding our portfolio."
The ERA Market Tool is a web based system that will include meter and benchmarked data for those needing guidance in fine tuning a facility's curtailment capability. In addition, the product will also provide a critical peak pricing (CPP) tariff calculator that will help users easily understand whether CPP is right for them. Beyond educating key customer audiences, Joule Assets will also offer counsel on the benefits their clients' products and services can offer to enhance load management program participation.
"Information is the key to driving revenue growth in an increasingly complex energy reduction marketplace," said Mike Gordon, CEO, Joule Assets. "For the first time, all stakeholders will have access to comprehensive information on revenue channels that are often overlooked. The ERA Market Tool is helping to redefine how market players – building owners to utilities, product and service providers to consumers – can use this accessed value as a strategic asset. For some, like US Energy Group, this can mean deeper touch with new or larger customers. For others, it means expanded opportunity with existing customers. Either way, it is access to information that is driving these strategies. "
Luxoft, a member of IBS Group and a leading global provider of advanced application and software product services, is supporting Joule Assets' development efforts.
"Joule Assets' unique approach to addressing the needs of the energy reduction market is the first of its kind," said Joe Jerz, Luxoft's Global Head of Energy & Utilities Practice. "As the company's development support partner, we are delivering the resources that will further Joule Assets' vision and goal of providing energy market participants with a simple-to-use technology that will ease the transaction process for demand response equipment and services. We're excited to collaborate with Joule Assets as they evolve and grow the energy reduction marketplace."
Joule Assets will showcase this product offering at the DistribuTECH Conference & Exhibition in San Diego, January 28-31 at booth (#626). In addition, the company will be offering a complimentary market assessment opportunity report to selected conference attendees as part of a Conference promotion.
For more information about Joule Asset's Energy Reduction Assets (ERA) Market Tools visit: www.jouleassets.com.
About Joule Assets
Joule Assets was founded in 2010 by two pioneers of the Demand Response industry, Mike Gordon, founder of ConsumerPowerline (later CPower), and Dennis Quinn, founder of Celerity Energy. With collectively over 50 years in the energy industry, Mike and Dennis's experience in creating and designing new energy markets, and expertise in understanding how to generate returns from demand response and energy efficiency, make them ideally positioned to address the needs of this market to the benefit of all market participants. The Joule team also includes energy analysts, attorneys, business development and sales professionals, technologists, software and database designers, and an outside network of energy experts from around the world. The company is committed to creating value by catalyzing consumers to use less energy, and by forging a clean, efficient, and sustainable energy infrastructure for the planet.
About Luxoft
Luxoft, a principal subsidiary of IBS Group, is a provider of advanced application and software engineering outsourcing services for global and regional enterprises. Luxoft builds partnerships with its clients, such as Boeing, IBM, Deutsche Bank, UBS, Harman, Avaya, Alstom, and Sabre, based on the culture of engineering excellence, innovation, and deep domain expertise. Luxoft offers international delivery capability through its network of state-of-the-art delivery centers in North America, Eastern Europe, and Asia. Luxoft`s customers benefit from the right mix of technology skills, industry knowledge, proprietary processes and methodologies, and a choice of engagement models. Luxoft's Software Development services for the Energy & Utilities industry are solidly supported by substantial expertise, an in-house R&D lab, and an in-depth knowledge of legacy and emerging technology standards. Luxoft is the software and hardware development partner of choice for energy solutions vendors, electric utilities, energy service providers, and energy equipment manufacturers across the globe.
Featured Product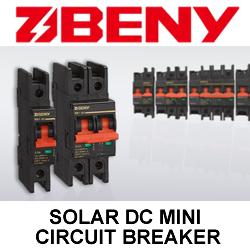 The BB1-63 modular miniature circuit-breakers can be used in solar DC circuits up to 1200 VDC (4-poles execution). Application in solar DC circuits, battery energy storage systems and UPS. Arc flash barrier design keeps solar equipment more safe and reliable. For DC circuit over-current protection.