NGenTec is the only company in the market currently offering an advanced hybrid solution with an axial flux generator.
NGenTec Ltd, a leading supplier of novel generator technology to the wind industry, is attending this year's EWEA Event, in Vienna to showcase its innovative and cutting-edge applications, and to continue its discussions with potential customers who are interested in harnessing the generator's unique capabilities.

The company, which is poised for commercialisation this year, designs and supplies hybrid and direct drive permanent magnet generators (PMG) for MW-scale wind turbines. NGenTec is the only company in the market currently offering an advanced hybrid solution with an axial flux generator.
The strength of NGenTec's generator is in its' unique modular design that leads to high operational flexibility and simplicity of in-situ maintenance on the PMG. The generator's compact, lightweight and standardised component structure will offer its customers greater availability, lower O&M cost and ease of manufacture and transport, which overall result in a quantifiable lower cost of energy.
Following on from the successful build of the full scale 1MW prototype by NGenTec during 2012, the generator was tested extensively over a seven month period. This demonstrated the unique selling points of the technology, with the results meeting or exceeding all design expectations, and further highlighting to the industry that this technology works at MW scale.
Garrad Hassan (GL-GH), the world's leading renewable energy independent consultancy, conducted a comprehensive simulation of the NGenTec hybrid in a large offshore wind farm comparing it with the state of the art, and confirmed that the benefits of the technology are "substantial".
Dr Makhlouf Benatmane, Chief Executive Officer at NGenTec comments, "For NGenTec, 2013 will provide the key milestone of signing our first agreement with Original Equipment Manufacturers (OEMs). The deal is likely to be focused around our differentiating hybrid technology where we have already experienced substantial interest from multiple potential customers.
"We have a solid foundation for our unique generator technology which is strongly reflected by the success of our 1MW prototype. With wind turbine installations growing substantially and a strong global momentum towards the reduction in the cost of energy, we at NGenTec are well placed to deliver our evolutionary technology that will take wind turbine generators to a whole new level of operation excellence.
"We are looking forward to exhibiting at this year's EWEA Conference and demonstrating that our validated technology not only works but provides a host of advantages for both the wind turbine manufacturers and the industry as a whole, making us a true market leader."
Featured Product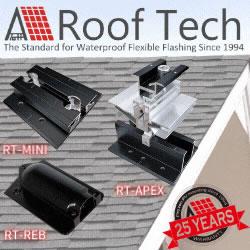 Now Roof Tech brings you the most innovative, watertight mounting systems ever developed for solar photovoltaic systems. Designed and manufactured exclusively for us by Japan's longtime leader in roofing technologies, Roof Tech products are 100% code-compliant and offer fast, simple installation and huge savings on shipping costs due to their compact, rail-less design. Learn more about our full line of versatile PV mounting solutions now available for residential installations. The next generation in rooftop solar mounting solutions."