In addition to Roberto, the DWEA board welcomed three additional industry leaders.
Flagstaff, Ariz. and Greenburg, Kan., January 31, 2013 - The Distributed

Wind Energy Association (DWEA) announced today that Haley Estes Roberto,
vice president at Harvest the Wind Network (HTWN), has joined the
association's board of directors. Roberto was selected to replace outgoing
board member, Jenny Heinzen, and will serve a one-year term.
"Haley has been a driving force in our membership since the inception of the
association," said DWEA Executive Director Jennifer Jenkins. "As a member,
Haley has taken a leadership role in the planning of the Small and Community
Wind Conference and Exhibition and was instrumental in getting support for
the ITC extension. Her expertise in sales, business development and
operations will be valuable as we seek to engage new members and continue to
advocate for better policy and building a stronger industry in the year
ahead. We are excited to have her as a dynamic addition to our board."
In addition to Roberto, the DWEA board welcomed three additional industry
leaders - Dave Blittersdorf, Dan Juhl and Heather Rhoads-Weaver - who were
re-elected last fall for the 2013 calendar year. The DWEA Board serves as a
unified voice for the distributed wind industry, from manufacturers to
installers. DWEA provides leadership and guidance to all members on federal,
state and local policy, and is expanding its membership base through
development of programs and business opportunities.
"DWEA is a valuable asset to the distributed wind industry, working behind
the scenes supporting local, state, and federal industry development and
policy initiatives," Roberto said. "2013 will be a pivotal year in
distributed generation and I am honored to serve as a board member."
Roberto, acting as HTWN's operational executive, founded HTWN in 2008 with
her father and uncle with the mission of effectively implementing wind
energy throughout North America and bringing sustainable economic benefits
to communities. Roberto plays an instrumental role in the continued
development of HTWN by securing and maintaining strong relationships with
the industry's elite manufacturers and suppliers. She also advocates state
and federal policy initiatives to strengthen and promote the distributed
wind industry. During the last four years, Roberto and HTWN paved the way
for distributed wind power with more than 150 wind turbines installed at
schools, hospitals, manufacturing facilities and colleges in communities
across the United States. Roberto earned her Bachelor's degree from The
University of Kansas and now resides in Louisville, Ky., with her husband
Victor.
About the Distributed Wind Energy Association The Distributed Wind Energy
Association is a collaborative group comprised of manufacturers,
distributors, project developers, dealers, installers, and advocates, whose
primary mission is to promote and foster all aspects of the American
distributed wind energy industry. Distributed wind, commonly referred to as
small and community wind, is the use of typically smaller wind turbines at
homes, farms, businesses, and public facilities to off-set all or a portion
of on-site energy consumption. DWEA seeks to attract members and associates
from all sectors with relevant interests pertaining to the distributed wind
industry. For more information on DWEA, please go to
www.distributedwind.org. Follow us on Twitter @DWEA, find us, like us and
connect with us on Facebook and LinkedIn by searching Distributed Wind
Energy Association.
Featured Product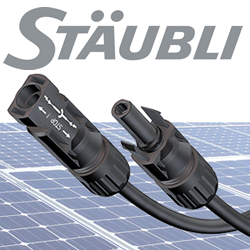 ​Stäubli Electrical Connectors are used on more than 300 GW, over 50% of the PV capacity worldwide. The MC4 family of UL and TUV listed products include connectors, in-line fuses, branch connectors, cable assembly and more.