Program eases local and state government access to affordable American-made solar systems
HILLSBORO, Ore., Jan. 31, 2013 – Beginning tomorrow, solar panels and complete solar systems from SolarWorld, the largest U.S. solar manufacturer for more than 35 years, will be available through the only group-purchasing program to offer renewable-energy products and services to U.S. state and municipal government agencies.

SolarWorld was selected as an approved vendor by HGACBuy (Helping Governments across the Country Buy), a 35 year-old cooperative-purchasing program of the Houston-Galveston Area Council.
HGACBuy is composed of 6,106 local and state government agencies and nonprofits in 47 states, including cities, counties, utilities, community colleges, universities, school districts, transportation agencies, port authorities and fire protection districts.
One of only four HGACBuy-approved solar-energy providers, SolarWorld received the highest score in HGACBuy's evaluation of responses to its competitive solicitation for its high-quality, American-made solar panels, complete solar systems, and engineering and construction services.
"HGACBuy just made it easier and faster for state, county and municipal governments to go solar," said Kevin Kilkelly, president of SolarWorld Americas. "In being selected for the HGACBuy program, SolarWorld has been pre-qualified and evaluated in a stringent, competitive and public bid process. We stand ready to rapidly deploy our American-made solar panels, balance-of-systems components and technical services to government agencies from coast to coast."
On behalf of its members, HGACBuy reviews and selects products, such as solar systems, that require detailed technical specifications and procurement through a public, competitive bid process. Last year, for example, HGACBuy members collectively purchased more than $123 million of goods and services through the organization's radio communication equipment contract and $120 million of goods and services through its fire services apparatus contract.
"SolarWorld's installer partners will benefit from our inclusion in the HGACBuy program," Kilkelly said. "They can pursue solar-installation contracts with HGACBuy's member agencies knowing that their panel manufacturer has been pre-qualified and competitively priced for use in government projects."
About SolarWorld (www.SolarWorld.com):
SolarWorld manufactures solar power systems and in doing so contributes to a cleaner energy supply worldwide. The company, located in Bonn, employs about 2,700 people and carries out production in Freiberg, Germany, and Hillsboro, Oregon, USA. From raw material silicon to the solar module, SolarWorld manages all stages of production ‒ including its own research and development. Through an international distribution network, SolarWorld supplies customers all over the world with solar modules and complete systems. The company maintains high social standards at all locations across the globe and has committed itself to resource- and energy-efficient production. SolarWorld has been publically traded on the stock market since 1999 and is quoted in the technology index TecDax. SolarWorld achieved sales of about 1 billion Euros for the fiscal year 2011.
Featured Product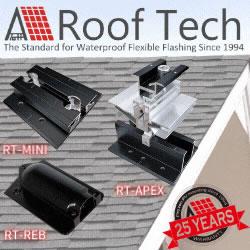 Now Roof Tech brings you the most innovative, watertight mounting systems ever developed for solar photovoltaic systems. Designed and manufactured exclusively for us by Japan's longtime leader in roofing technologies, Roof Tech products are 100% code-compliant and offer fast, simple installation and huge savings on shipping costs due to their compact, rail-less design. Learn more about our full line of versatile PV mounting solutions now available for residential installations. The next generation in rooftop solar mounting solutions."