Lucintel Estimates Global Solar Photovoltaics Wafer Market to Reach $16,263 Million by 2017.
Irving, Texas February 02, 2013

The booming solar energy industry has been a key driver for the global solar PV wafer market. The market experienced exponential growth during 2006-2011; however, it is forecast to witness modest growth over 2012-2017 and reach $16,263 million by 2017.
Lucintel, a leading global management consulting and market research firm, has analyzed the global solar PV wafer market and offers its findings in its comprehensive research report, "Growth Opportunities in Global Solar Photovoltaics Wafer Market 2012-2017: Trend Forecast, and Opportunity Analysis."
This report studies the global solar PV wafer market with an in-depth analysis of all four regions: North America, Europe, Asia Pacific (APAC), and Rest of the World. In the global solar PV wafer market during 2006-2011, Europe dominated, in terms of both value and volume, followed by the APAC market. Strong growth factors such as clean energy agendas and high electricity prices are expected to maintain Europe as the global leader by volume and value over 2012-2017, followed by APAC.
Lucintel has identified that declines in solar subsidy rates, wafer handling, and kerf loss are the major growth challengers. Functional and technological advancements, shrinkage in polysilicon prices, and incentive programs are the drivers providing the market with a competitive advantage.
This market report is an indispensable reference guide for materials suppliers, product manufacturers, investors, executives, distributors, and many more that operate in this market. To make business, investment, and strategic decisions, useful information such as that contained in this market reports can fulfill these core needs.
This Lucintel solar market repor t provides recent market scope, background and overview, market analysis, market trends, cost comparison, product portfolio analysis, relative market attractiveness by region, emerging trends, market price trends, market forecasts, Porter's Five Forces Analysis, growth opportunities, profitability trend, and analysis of the major market players.
For a detailed table of contents and pricing information on this timely, insightful report, contact Lucintel at +1-972-636-5056 or via email at helpdesk(at)lucintel(dot)com. Lucintel provides cutting-edge decision support services that facilitate critical decisions with greater speed, insight, strategic growth consulting and cost efficiency.
Lucintel now offers free Live Chat on its website to answer visitors' questions in real time with precision. Visitors can directly chat with our experts through Live Chat to receive assistance and information regarding Lucintel's product and service offerings.
Featured Product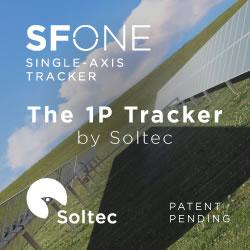 Soltec manufactures and supplies solar trackers designed and proven for extreme climate conditions, which is an ideal solution for any region's environment. Soltec's trackers are self-powered, requiring no additional PV module or grid-powered connection. Bifacial modules collect energy on both the front and rear sides, capturing reflected irradiance from the ground surface under and around the tracker and from other modules. Depending on site conditions, bifacial yield-gain can reach +30 percent.