Sullivan Solar Power Opens Governmental Affairs Office
SAN DIEGO (February 5, 2013) – Sullivan Solar Power, a San Diego headquartered firm, today announced the creation of its Governmental Affairs Division, with a new office based in San Francisco. The solar power design and installation company has been involved with legislative and policy issues that pertain to solar energy since its inception in 2004, but significantly more so over the last year.

"The policy environment is constantly changing, this requires us to stay very engaged on a number of different issues, and also helps us chart the future course of our business and industry," Daniel Sullivan, founder and president of Sullivan Solar Power.
In 2011, Sullivan Solar Power worked with local industry colleagues to form the San Diego Solar Coalition. The coalition served as a party to the San Diego Gas & Electric (SDG&E) General Rate Case, Phase II. With the hiring of a lobbying firm, the group also introduced legislation in 2012 to protect solar producers but it was ultimately vetoed by Governor Brown. The Coalition was formed by Sullivan after SDG&E introduced potential new charges that targeted solar producers and had the potential to kill the solar industry. The proposed charges were eventually rejected by the California Public Utilities Commission (CPUC).
"Over the past year, our involvement at the state level – both legislatively and with the policy issues at the PUC were very eye opening," said Sullivan, "It became evident that it was necessary for us to have a permanent seat at the table."
The company's new Governmental Affairs Division is being headed by industry veteran, Adam Gerza, and will be focusing specifically on net energy metering and rate design. Net energy metering (NEM) is the billing arrangement that allows solar customers to get full credit when they produce extra power and put it back on the grid, similar to rollover minutes on a cell phone. The NEM policy has been very popular not only in California, but around the country.
"The statewide net metering cap, which we expect to hit within the next couple of years is one of our biggest policy concerns," said Adam Gerza, Director of Governmental Affairs at Sullivan Solar Power, "The cap represents a cliff for our business and industry, and we want to be working now towards removing the cap and finding a long-term solution for all parties."
There is a disagreement between the utilities and solar industry at-large. The utilities claim that solar generators do not pay their 'fair share' for their use of the grid, while solar generators state that the utilities are not taking into account all of the benefits distributed generation solar provides to the grid. With the start a new legislative season, and a nearing of the five percent NEM cap, the heated debate is continuing to intensify.
"The Investor Owned Utilities are 100 year-old organizations that effectively have a monopoly on selling electricity in their given territories. As more and more people independently produce power, their rate base shrinks, which is a potential threat to their long-term business model," said Gerza.
In January 2013, a study was released by Crossborder Energy, determining that by the time the state's net metering program is fully subscribed, the policy creates a total net benefit of more than $92 million annually to the ratepayers of the three Investor Owned Utilities (IOUs).
"The solar industry is one of the fastest growing segments of the statewide economy, which is a direct result of the strong policy environment that California has put in place." said Gerza, "Net metering is arguably the most important policy of all, which is why we are getting most directly involved- to protect the interests of our employees, our customers and our industry-at-large."
About Sullivan Solar Power
Sullivan Solar Power is a turnkey solar system provider that delivers solar electric projects from concept to completion. The company has installed over 10,000,000 watts of solar power ranging from small-scale residential to large-scale commercial and municipal systems. Sullivan Solar Power is headquartered in San Diego, CA and owned and operated by Dan Sullivan. Sullivan Solar Power has a longstanding A-plus rating with the Better Business Bureau, with no complaints filed since the business began. The firm has been named one of the fastest growing energy companies in the nation by Inc. Magazine for three consecutive years and services all of Southern California. Regardless of project size and scope, Sullivan is committed to delivering the best products and the most qualified professionals to its customers. Visit www.sullivansolarpower.com for more information.
Featured Product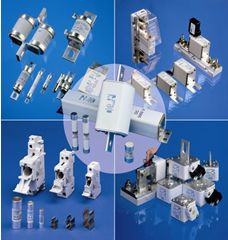 SIBA Fuses: your trusted source for all your circuit protection applications, from solar power to wind power. We are the world leaders in these applications and the most trusted name for your circuit protection needs. We have been working for over 70 years in semiconductor fuses, including ULTRA RAPID®, medium, and high voltage, standard European, miniatures, electronic fuses, and a wide range of DC rated fuses (24 VDC - 5000 VDC) for all types applications. We work with medium and high voltage fuses for protection of transformers, including submersibles, motors, medium and high voltage switchgear, compact substations, cable feeders, and high voltage capacitor circuits. New: Full line of PV UL Listed fuses and fuse holders. Contact us today for more information on our products and services.