GE's WindBOOST* Service's Technology to Provide Power Supply to Growing Energy Sector in Turkey***** Installed on 31 GE 2.5-Megawatt Wind Turbines, Increasing Their Power Curve to 2.75 Megawatts***** Annual Energy Production of Wind Farm Expected to Increase by up to 4 Percent
VIENNA—February 6, 2013—Zorlu Enerji Group has selected GE's (NYSE: GE) WindBOOST* service's technology to enhance the output of 31 GE 2.5-megawatt (MW) wind turbines at the Gokcedag Wind Farm in Turkey. The increased power supply will help meet Turkey's growing demand for energy from cleaner, renewable resources.

GE recently installed its WindBOOST control software at the Gokcedag Wind Farm, located in the city of Osmaniye in the eastern Mediterranean region of Turkey. GE expects WindBOOST to increase the wind farm's annual energy production up to 4 percent. WindBOOST is an ideal product for growing regions such as Turkey where increased development is creating energy demand in short time periods. GE made the announcement today at the EWEA trade conference in Vienna, Austria. Rotor Elektrik Uretim A.S., a subsidiary of Zorlu Enerji, owns the Gokcedag Wind Farm.
WindBOOST makes it possible for GE 2.5 wind turbines to increase their power curve to 2.75 MW. Depending on wind speed and other site atmospheric conditions, the WindBOOST control automatically activates to increase the energy produced by each unit. Alternatively, WindBOOST can be turned on and off remotely, providing flexibility to ramp up power production.
"By upgrading GE 2.5-MW wind turbines with WindBOOST software, Zorlu Enerji gets the benefit of increased energy production without additional equipment. The 31 wind turbines now operate at the same power curve as 2.75-MW units, which is maximizing Zorlu Enerji's return on investment," said Andy Holt, general manager of wind services for GE's renewable energy business. "Turkey has a target of reaching 20 gigawatts (GW) of renewable energy in 2023, and we are proud to help the region meet this goal."
WindBOOST is one of many software and controls technologies in GE's suite of wind service offerings that increase annual energy production. GE is harnessing the power of the "Industrial Internet" and using software and analytics to make its machines smarter and more efficient. WindBOOST is one of many services technologies providing between 2-4 percent additional power to GE wind turbine owners. If only 1 percent more power were produced from GE's fleet of more than 20,000 turbines, there would be more than 875 GW hours of power on the grid.
About GE
GE (NYSE: GE) works on things that matter. The best people and the best technologies taking on the toughest challenges. Finding solutions in energy, health and home, transportation and finance. Building, powering, moving and curing the world. Not just imagining. Doing. GE works. For more information, visit the company's website at www.ge.com.
About GE Power & Water
GE Power & Water provides customers with a broad array of power generation, energy delivery and water process technologies to solve their challenges locally. Power & Water works in all areas of the energy industry including renewable resources such as wind and solar, biogas and alternative fuels; and coal, oil, natural gas and nuclear energy. The business also develops advanced technologies to help solve the world's most complex challenges related to water availability and quality. Power & Water's six business units include Distributed Power, Nuclear Energy, Power Generation Services, Renewable Energy, Thermal Products and Water & Process Technologies. Headquartered in Schenectady, N.Y., Power & Water is GE's largest industrial business.
Featured Product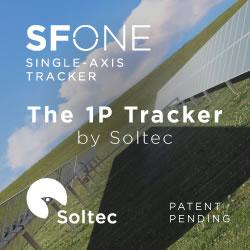 SFOne is the 1P single-axis tracker by Soltec. This tracker combines the mechanical simplicity with the extraordinary expertise of Soltec for more than 18 years. Specially designed for larger 72 an 78 cell modules, this tracker is self-powered thanks to its dedicated module, which results into a lower cost-operational power supply. The SFOne has a 5% less piles than standard competitor, what reduces a 75% the labor time.