The PS250P - AC Onyx Series is a fully integrated high performing module with a built-in microinverter designed to achieve what the demanding US market is looking for – flexible, safe and quick system installation.
The Woodlands, TX February 08, 2013

Phono Solar, one of the largest producers of mono crystalline and poly crystalline solar modules, has just launched an attractive ONYX Series AC Module combining sleek all black aesthetics with best of class technology.
The new AC Module is the latest in their impressive offering and is designed to maximize energy output. Each AC Module is integrated with a frame attached Enphase Microinverter which converts DC power to usable AC power instantly, without a centralized inverter. Easy to design and safer to install, the modules include pre-manufactured cables and are delivered ready for connection, for fast and inexpensive mounting. The intelligent microinverter sends vital panel level health and performance information via the Envoy communications gateway.
AC systems are more efficient at transporting energy and do not incur electrical losses inherent in DC circuits, resulting in more uptime and an increase in kW-h generated for greater overall productivity.
"It's incumbent of PV Module manufacturers in today's market to deliver higher efficiency and innovation, at Phono Solar we are able to do both," shares David Allen, VP Sales Phono Solar North America. "The PS250P AC Module offers flexible system design and labor savings for installers while delivering better energy harvest for the system owner. We are very excited to begin our partnership with Enphase Energy and further support our US distribution and installer channels."
The Phono Solar AC Module features an impressive 25-year performance guarantee of 90% up to 10 years and 80% up to 25 years. The modules are CEC Program Registered and offer product certification to UL 1703 and IEC 61215 (ed.2). In addition, the modules hold a Class C fire rating.
About Phono Solar
Phono Solar Technology Co., LTD (phonosolar.com) is a global renewable energy solutions manufacturer, with a brand that has become synonymous with high performing, top quality photovoltaic modules. As a leading supplier of solar modules, Phono Solar designs, manufactures and delivers solar products for on and off-grid use. With operations in North America, Europe and Asia, Phono Solar provides its partners with high-quality, competitively priced PV modules that are among the industry leaders in efficiency and warranty. For more information, visit http://www.phonosolarusa.com.
Featured Product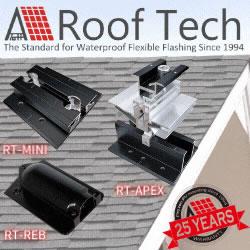 Now Roof Tech brings you the most innovative, watertight mounting systems ever developed for solar photovoltaic systems. Designed and manufactured exclusively for us by Japan's longtime leader in roofing technologies, Roof Tech products are 100% code-compliant and offer fast, simple installation and huge savings on shipping costs due to their compact, rail-less design. Learn more about our full line of versatile PV mounting solutions now available for residential installations. The next generation in rooftop solar mounting solutions."