January 1,2013 was an important date for companies operating in the collection of waste and residual materials.
Munich. TÜV SÜD was one of the first certification bodies for biofuels and other bioliquids to gain accreditation by the Federal German Agency for Agriculture and Food (Bundesanstalt für Landwirtschaft und Ernährung, BLE) in 2010. In December 2012, TÜV SÜD obtained further accreditation for the testing of waste and residual materials in accordance with the 36th BImSchV.

January 1,2013 was an important date for companies operating in the collection of waste and residual materials. With effect from this date, the 36th BImSchV (36th Ordinance on the Implementation of the Federal Immission Control Act) now requires these companies to furnish proof of certification in accordance with REDcert-DE or ISCC DE for the first time. The requirements of the 36th BImSchV extend to companies gathering waste and residual materials and processing companies that treat themor use them to produce fuels. "Since biofuels made from waste and residues can be counted twice towards the fulfilment of the EU target, reliable end-to-end certification of the entire supply chain is imperative", says Igor Dormuth, Project Manager Biofuel Certification at TÜV SÜD Industrie Service GmbH. "Critical aspects in this process are reliable and transparent criteria defining sustainable biomass use. Without them, the reputation of biofuels as an important building-block within the scope of energy from renewable sources will be impossible to preserve."
TÜV SÜD Industrie Service GmbH carries out certification in accordance with the internationally recognised REDcert and ISCC (International Sustainability and Carbon Certification) certification schemes and supports market participants throughout the manufacturing and supply process.
Further information about the services of TÜV SÜD Industrie Service is available at: www.tuev-sued.de/is.
TÜV SÜD is an international leading technical service organisation catering to the INDUSTRY, MOBILITY and CERTIFICATION Segment. The experts and technology consultants are dedicated partners in their clients' processes, offering comprehensive industry expertise throughout the entire value chain. They focus their services on their core competencies of consulting, testing, certification and training. Over 17,000 employees are committed to optimising technology, systems and know-how at over 800 locations in Europe, the Americas, Asia Pacific and Africa. Further information is available at www.tuv-sud.com
Featured Product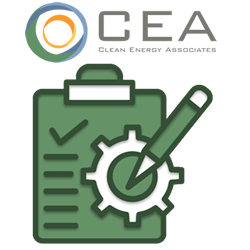 Clean Energy Associates provides a complete quality assurance solution that covers the entire product lifecycle of PV modules, storage systems, and every Balance of Sy stem (BOS) component. CEA's experienced on-the-ground and international team of quality control engineers and account managers offer an unparalleled quality assurance presence that can protect solar and storage investments and ensure future energy-producing viability for the life of the product.