Leaders in the global wind O&M industry will join this years' Wind O&M Forum for Power Producers that will be hosted in Hamburg (February 18-20), and is set to be one of Europe's key wind energy operations and maintenance events – tackling cost reduction head on.
London February 07, 2013

When it comes to turning a profit throughout the lifecycle of a wind farm, just a 1% improvement in operations and maintenance can make a huge difference to the bottom line. The challenge, however, is how to achieve that 1% improvement in the face of operations and maintenance (O&M) costs that are double or even triple initial projections.
On the basis of an exhaustive industry survey, Wind Energy Update finds that wind farm return on investment is around -21%. This underperformance is attributable to over-estimation of power production and underestimation of O&M costs. Wind O&M costs can now be expected to increase on average 253% over the 20-year life of the various wind machines.
In the long-run, as the wind industry matures and begins to validate the success of new technologies and strategies, and as the industry begins to collaborate on O&M, a reduction in long-term O&M costs are the most likely scenario.
That's why, at the 5th Annual International Wind O&M Forum for Power Producers, leaders in the global O&M community will gather to take part in one of two simultaneous sessions dedicated to onshore and offshore wind, both with a focus on how to maximise generation of wind assets at an acceptable cost.
Wind Energy Update is delighted to confirm the support of the following companies at the event:
*GE as Event Sponsor
*Romax Technology as Predictive Maintenance Sponsor
*Bladefence as the Predictive Blade Maintenance Sponsor
*Avent Lidar Technology as Lidar Sponsor
*ExxonMobil as Lubrication Sponsor
*REPower as Silver Sponsor
*A2SEA as Official Vessel Supplier
*Houlder as Access Solution Sponsor
*Gastops as Event Sponsor
*Dezide as Event Sponsor
*Anecto and Avonmore Electrical both as Exhibitors
With a nearly sold out exhibition hall, and already 150 attendees confirmed to attend, this is set to be one of Europe's most revered Wind O&M Forum to date.
Asset owners already confirmed to attend include Acciona Energia Portugal, Agder Energi Produksjon, Allianz Capital Partners, Arctic Wind, Axpo Power AG, Belwind, BKW Energie, BKW Italia Spa, Chevron, DONG Energy, E.ON Climate & Renewables, Eneco Wind, Enel Green Power SpA, Energie SpA, Erg Renew, European Energy, GDF Suez Energy Europe, HgCapital, Juwi, London Array, NoordzeeWind, RWE Innogy, RWE Npower Renewables, Scottish and Southern Energy, ScottishPower Renewables, and Vattenfall.
For more information on this event, speakers, agenda and workshop, visit the website: http://www.windenergyupdate.com/operations-maintenance/
Featured Product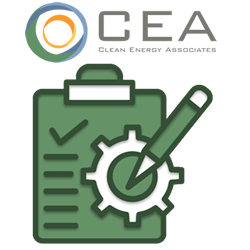 Clean Energy Associates provides a complete quality assurance solution that covers the entire product lifecycle of PV modules, storage systems, and every Balance of Sy stem (BOS) component. CEA's experienced on-the-ground and international team of quality control engineers and account managers offer an unparalleled quality assurance presence that can protect solar and storage investments and ensure future energy-producing viability for the life of the product.