The ability to withstand uplift caused by wind loads is critical in solar pipe racks.
CINCINNATI, OH (February 12, 2013) – Hollaender® has introduced two new Speed-Rail fittings designed specifically for installation of solar racking systems in areas that experience extreme wind. The fittings include a tee and elbow for use with 2 inch IPS pipe.

The ability to withstand uplift caused by wind loads is critical in solar pipe racks. While most regions of the United States must design for 90 mph winds, certain coastal areas such as South Florida and the Gulf Coast must design for 135 mph and higher wind speeds.
On a Speed-Rail fitting, the component that produces pipe holding power is a single integrated proprietary internal/external reverse-knurl cup-point set screw that securely attaches the fittings to the pipe, and provides tremendous resistance to loosening and pullout. The new fittings are designed with two set screws, producing a substantial increase in pullout resistance. Testing on the 2 inch IPS fitting shows the addition of the second set screw increases pullout capacity from 3,900 pounds to 8,200 pounds on galvanized pipe, an increase of 110 percent.
Speed-Rail slip-on pipe fittings are used with aluminum, galvanized steel, stainless steel or black iron pipe to easily and cost-effectively build solar panel racking systems. They are strong and lightweight, and come in a wide variety of fixed and adjustable configurations, including the tees and flanges most commonly used in solar panel installations.
The versatility of the fittings allows dependable support structures to be constructed virtually anywhere a solar panel needs to be installed. The same versatility also allows the systems to be easily uninstalled and moved if necessary.
All Speed-Rail fittings are made of 535.0 aluminum-magnesium and are the most corrosion resistant fittings on the market. They are backed by a 10-year warranty against corrosion, will not rust, and can be used with galvanized steel or other metals without concern for galvanic corrosion.
A Speed-Rail fitting and pipe solar rack system installs quickly, securely and cost effectively, especially when compared to welded and other more complex systems. The only tools needed for assembly are a saw, hex key and tape measure.
About Hollaender Manufacturing
Hollaender is a manufacturer and marketer of aluminum structural pipe fittings, aluminum pipe, and infill panels, as well as final assemblies that use these components. These components are used in the design and build of handrail, guardrail and safety rail systems as well as a wide variety of unique modular pipe and fitting based structures for commercial, residential, public works and industrial applications, as well for retail store fixtures and other structural applications. These components and systems are marketed under the trademarked brands Speed-Rail and Interna-Rail®. Hollaender also offers consultation, design, and project management services.
Featured Product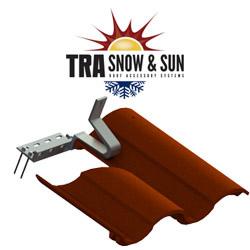 You haven't installed a tile mount that is easier to install than the Solar Tile Mount manufactured by TRA Snow and Sun. Solar Tile Mount is used on all tile roof profiles: flat, mid, and high. It is made in the USA of aluminum alloy for strength and excellent corrosion resistance. Solar Tile Mount is built to allow more ease in installation with more rise from the tile surface to the rail for better air flow below panels. The adjustable base is longer than most allowing attachment 6" to the left or right to have the bracket in the base of the pan of the tile and still fasten to the rafter. Solar Tile Mount is adjustable for counter batten systems from ¾" to 3". The horizontal rail is directly above base fasteners giving greater uplift resistance than any other system. For superior waterproofing apply TRA Snow and Sun's butyl backed VersaFlash aluminum flashing. No tile flashing is needed on top of the tile for greater labor and material cost savings.