A key enabler, and a direct result, of that growth will be expanding sales of EV charging equipment (better known as electric vehicle supply equipment, or EVSE).
BOULDER, Colo.--Although sales of plug-in electric vehicles (PEVs) to date have been lower than previously forecast, the PEV market is expected to continue to grow, and to see stronger growth when the worldwide economy improves and as battery prices come down. A key enabler, and a direct result, of that growth will be expanding sales of EV charging equipment (better known as electric vehicle supply equipment, or EVSE). According to a recent report from Pike Research, a part of Navigant's Energy Practice, annual revenue from EVSE sales will grow from $355 million in 2012 to more than $3.8 billion in 2020 – more than a tenfold increase.

"The EVSE industry is still grappling with the best way to create a viable return on investment on EVSE station deployments for site hosts – an issue that will move front and center as publicly funded EVSE deployments wind down," says senior research analyst Lisa Jerram. "At the moment, there are too many players chasing this market, and this industry is likely to see some consolidation over the next year. Companies that can weather this shakeout period, however, are likely to enjoy growing demand as the market expands."
The key short-term challenge for commercial EVSE sales is to devise viable business models. Currently, it seems likely that both "all-you-can-eat" subscription plans and single price per charge models will be used in the near future. Pike Research's analysis indicates that the industry seems to be converging around a very low price point for per-charge costs that affords little cushion for the host site to make money. According to the report, the subscription model appears to hold the most promise as a way to generate revenue from public charging systems at a price that will be acceptable to drivers.
The report, "Electric Vehicle Charging Equipment", examines the state of the global EVSE market today, and provides forecasts through 2020. Including market analysis and forecasts for residential, workplace, public, and private EVSE, the report covers the development of fast charging over the past year and forecasts DC charging sales. It also forecasts the growth of wireless charging equipment, set to become commercially available in the 2013–2015 timeframe. EVSE forecasts cover the major regions of the world and include breakouts for key adopter countries including the United States, Canada, Germany, France, the United Kingdom, Japan, China, Korea, and Israel. The report also includes profiles of more than 40 industry players, including EVSE manufacturers and service providers, their suppliers, vehicle OEMs, and utilities. An Executive Summary of the report is available for free download on the Pike Research website.
About Pike Research
Pike Research, which joined Navigant's global Energy Practice on July 1, 2012, provides in-depth analysis of global clean technology markets. The team's research methodology combines supply-side industry analysis, end-user primary research and demand assessment, and deep examination of technology trends to provide a comprehensive view of the Smart Energy, Smart Utilities, Smart Transportation, Smart Industry, and Smart Buildings sectors. Additional information about Pike Research can be found at www.navigant.com/pikeresearch.
About Navigant
Navigant (NYSE: NCI) is a specialized, global expert services firm dedicated to assisting clients in creating and protecting value in the face of critical business risks and opportunities. Through senior level engagement with clients, Navigant professionals combine technical expertise in Disputes and Investigations, Economics, Financial Advisory and Management Consulting, with business pragmatism in the highly regulated Construction, Energy, Financial Services and Healthcare industries to support clients in addressing their most critical business needs. More information about Navigant can be found at www.navigant.com.
Featured Product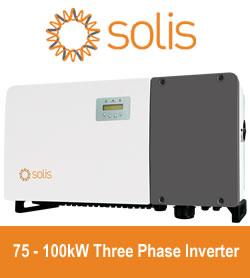 Solis75kW - 100kW series high-power string inverters are widely used in industrial and commercial rooftops. Solis's new three-phase string inverter is the first choice for industrial and commercial photovoltaics. 75-100kW three phase series string inverter have Maximum 28 strings input, support "Y" type connection in DC side. Maximum string input current 13A, support bifacial modules access.Supports anti-PID function to improve system efficiency.