PROINSO and MECASOLAR will participate in the Energy & Environment International Trade Fair, GENERA 2013, to be held 26-28 February in the Feria de Madrid convention and exhibition centre (Hall 5/Stand 5C06).
18 February 2013. The companies in the OPDE Group PROINSO, global leader in the supply of PV solar products, and MECASOLAR, multinational company that designs, manufactures and supplies solar trackers, fixed structures and foundation screws, will be exhibitors at GENERA 2013, Energy & Environment International Trade Fair (Hall 5/Stand 5C06). The trade show will be held in the Feria de Madrid convention and exhibition centre from 26 to 28 February.

PROINSO will exhibit its PROINSO PV BOX solar PV self-consumption solutions, which are flexible enough to meet the different annual electric power needs of end-users and are based on distributed generation. They are targeted mainly at businesses and small manufacturing facilities, homes and retail stores.
The PROINSO PV BOX global self-consumption solutions' output power ranges from 225Wn (one module) to 4,600Wn (23 modules). These solutions are available for sale online at http://store.proinso.net. They contain parts from manufacturers like SMA (inverters) and Enecsys (micro inverters), complying with RD 1699/2011, which regulates small power generation facilities.
Prices of PROINSO PV BOX range from €316 to €5,425, varying with the power output needs.
In addition, the firm's Business Manager, Óscar Pérez, will talk about their experience in this kind of solar self-consumption installations on 27 February in a seminar titled 'Self-consumption and Net Metering, an Efficient and Competitive Electric Power Model', organised by Unión Española Fotovoltaica (UNEF). Mr Pérez will describe the legal-administrative steps to be followed to connect a self-consumption system with instantaneous output. He will refer to their experience in Spain, with projects installed by PROINSO's Qualified Installers.
At PROINSO they estimate that, with the expected rise in electricity prices, self-consumption applications can reduce electricity bills by 10 to 25% in the next ten years. We should consider that, in the past three years, electricity prices grew by 20%, and the upward trend is expected to continue.
All installers who visit the PROINSO stand (Hall 5/Stand 5C06) can take the PROINSO SOLAR CATALOGUE, a reference book in the PV solar industry – over 440 pages with technical information on about 500 products from over 32 leading brands. The catalogue contains additional information in the form of product comparisons, installation configuration guides, installation manuals, etc.
MECASOLAR to attend GENERA as well
GENERA 2013 will also be the perfect showcase for the new solutions developed and manufactured by MECASOLAR, such as single- and dual-axis tracking systems, ground-mounted fixed structures and foundation screws for solar PV installations, and fixed structures for roof-mounted applications.
Among the new arrivals is the 140kWp horizontal single-axis tracker. The new solar tracker's modular, low-height structure results in simple assembly that does not require cranes or lifting equipment, thus saving time in the installation. It is characterised by quick, easy and low-cost installation, similar to that of fixed mount systems, and has low maintenance costs as well, as a single motor can drive 140kWp.
The simple modular design of the axes allows for perfect adaptability to different types of ground and dimensions. Besides, the system requires almost no maintenance, and consumption is very low (motor consumption: 165kWh/year).
At GENERA 2013, MECASOLAR will exhibit other products, such as the single-axis polar tracker – with a capacity of 114.4kWp, improving PR and reducing investment per Wp, thus increasing the profitability of the installation – or the MECASCREW foundation screw.
This screw can be used on different types of ground and with various structures, both single-axis trackers and fixed PV installations. It is a foundation system that does not require concrete footing, which saves time in ground preparation. The screw can be easily removed and recycled, and the installation is cost effective because it does not use concrete footing and requires little installation work.//
ABOUT PROINSO www.proinso.net
PROINSO has delivered over 1,115MW around the world, a record high that turns it into one of the world's leading companies in the sector, and the International Network of Qualified Installers, currently comprising 2,312 members, has played a key role in this achievement.
With international markets accounting for 88% sales, PROINSO has offices in Spain, Germany, Greece, Italy, USA, Great Britain, Canada, China, Australia, India and Thailand. Recently, the company opened a new branch in Japan.
ABOUT MECASOLAR www.mecasolar.com
MECASOLAR specialises in the design, manufacture and supply of single axis–Azimutal, Polar and Horizontal- and dual-axis solar trackers, ground and roof-mounted fixed structures and foundation screws for PV solar facilities.
It has manufacturing plants in Spain, Greece, Canada and USA, and has supplied products to projects totalling a capacity of more than 343MW. MECASOLAR's solar tracking systems have been delivered to more than 40 countries.//
Featured Product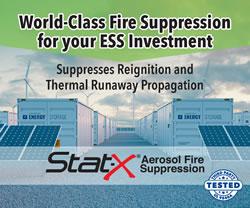 Stat-X® condensed aerosol fire suppression is a solution for energy storage systems (ESS) and battery energy storage systems (BESS) applications. Our Stat-X condensed aerosol fire extinguishing product was tested for efficacy in suppressing li-ion battery fires. It was found that the product successfully extinguished single and double cell battery fires. This testing was conducted in parallel with a large battery fire testing program on behalf of a large energy storage company.