The nation's leading technical solar training organization, Solar Energy International (SEI), has one of the largest alumni memberships in the industry. With over 25,000 students served in over 20 years of service to the renewable energy sector as a non-profit educational organization, SEI has had to increase the amount of training options for the burgeoning renewable energy industry.
Paonia, CO February 18, 2013

If workforce interest levels in technical solar training is the proverbial canary in the coal mine for the broader renewable energy sector - then Solar Energy International's (SEI) little birdie is alive and well and the renewable energy sector is alive and well.
In the last two quarters, SEI has experienced a dramatic turn around in numbers of students registering for solar training and inquiries about their technical training program.
In response to this increase, SEI is launching a series of online courses starting March 11th and continuing through 2013 covering topics from: Grid-direct Solar Photovoltaic (PV) Systems, Battery-based Solar Photovoltaic (PV) Systems, Solar Business and Technical Sales, and many more technical courses.
Christopher Turek, Director of Online and Student Services for SEI said, "Comparing student enrollments in Q4 of 2012 and Q1 of 2013 to years past, we are witnessing a renewed increase of interested students registering for workshops and courses as well as a spike in inquiries about our technical training program."
"We have also experienced a large increase of people coming from related technical trade professions like electricians and building construction professionals that are signing up for our program."
In order to meet the demands of the industry and interested students wanting to enter SEI's training program, they had to increase the amount of training options available to students. Expanding their online training program through the SEI Online Campus has helped SEI meet the demand.
SEI's full training program titled, the SEI Solar Professionals Certificate Program requires at least 160 hours of training to graduate. This is equal to about 4 college level courses, workshops, and lab training.
The hands-on labs are the capstone of the training experience at SEI and requires students to go through at least 50 hours of classroom based training before students qualify to register for week long hands-on lab training. Taking courses through SEI's Online Campus has become a popular way for students to satisfy the classroom prerequisite requirement.
For 2013, SEI has scheduled more than two dozen online course sessions in response to the increase in student enrollments. SEI's enrollments have been in the hundreds just in the first quarter of 2013 and registration numbers continue to grow as the year progresses.
Turek went on to say, "We aren't experiencing the enrollment levels like we experienced in 2009 during the big "green jobs" push, but there definitely has been a recent uptick compared to the last few years where interest seemed to have stagnated a bit."
"For me personally, it is an exciting time to be in the renewable energy sector, especially on the training side of things. The passion that our instructors and students bring to this industry is unmatched in any other technical trades field."
"I think people are starting to realize that renewable energy sources are legitimate and need to be part of our overall energy production portfolio as a nation so people are hungry to learn more through formal training programs like SEI's."
Looking back over the past few years, the entire solar industry has experienced a period of uncertainty and the training sub-sector of the solar industry experienced a slow down in people showing interest in receiving technical training.
This was probably due to many factors, but the leading factor was a large influx of solar training providers that started offering training with differing levels of quality and rigor.
Before 2008, there were only a handful of training providers in the U.S. that offered career focused solar training. SEI was one of the few and had been offering technical training for decades. As of 2013, there are now hundreds of schools and training providers all across the U.S.
This was the biggest change in the training sector and created a lot of opportunities and challenges for everyone involved from employers, manufactures, distributors, schools and training organizations, to practitioners and students.
These rapidly changing training offerings also created some confusion for people wanting to enter the industry. Government backed training initiatives, new certifications and certificate programs, state laws specifying who was qualified to install solar PV and solar thermal systems, distributors using training benefits for their own sales network expansion, community colleges scrambling to put together quality programs has all been part of this wild, wild, west expansion of the solar industry.
Even with the large influx of competing trainer providers in recent years, SEI has trained over 25,000 people over 20 years. Many of whom are now leaders in the solar industry. This alumni statistic makes SEI the Alma mater to one of the largest alumni and student populations in the renewable energy industry.
About Solar Energy International (SEI)
Solar Energy International (SEI) was founded in 1991 as a nonprofit educational organization to help others to use renewable energy resources and sustainable building technologies through education and technical assistance.
Our vision is focused on helping create a more sustainable future for our planet and its inhabitants. Through our work, we see clear opportunities to influence people's thinking and behaviors towards energy efficiency and the use of natural, sustainable methods of energy production and utilization.
Featured Product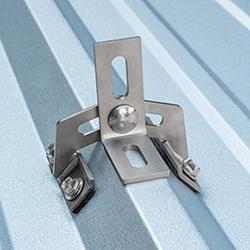 Explore new lines of income for your solar installation business with QuickBOLT's Stone Coated Steel roof mounts designed in partnership with metal roof manufacturers themselves. These SCS roof mounts work on all metal tile profiles and will help you bring in money you're missing out on. By not driving into the roofing material, QuickBOLT's Stone Coated Steel roof hooks maintain the integrity of the roof. Install with ease and confidence knowing your roof is protected against the harsh elements that these hooks are designed for.