Contenders Chosen from Cutting-Edge Clean Technology Businesses Around the Midwest
Chicago – February 19, 2013 – The Clean Energy Trust today announced the 17 finalists that will compete in the third annual Clean Energy Challenge, a $250,000 business plan competition that takes place April 4 in Chicago.

Independent evaluators with expertise in clean energy selected eight companies from four states to compete for the $100,000 early-stage prize. Nine student finalists will vie for the $100,000 Student Challenge prize. Cash prizes in both tracks are provided by the U.S. Department of Energy. In addition, all competitors are eligible for the $50,000 McCaffery Interests commercialization award.
Applications from across the region were submitted in all aspects of clean energy, from biomass development and smart grid to improved wind turbines and advanced bearing technologies.
"We expect great things from these new companies. Challenge finalists to date have raised more than $23 million in venture and other outside funding. They are creating jobs, launching pilot programs and commercializing their technology, which is the exact intent behind the competition," said Amy Francetic, executive director of the Clean Energy Trust. "We congratulate the 2013 Challenge finalists for joining an impressive list of innovators who have made the Midwest a leader in clean energy technology."
Student Finalists
Aerosol Control Technologies
Washington University in St. Louis (MO)
Energy Efficiency
Amplified Wind Solutions
Cleveland State University (OH)
Renewables
Bearing Analytics
Purdue University (IN)
Energy Services
EcoSpinners
Case Western Reserve University (OH)
Next-Gen Transportation
Effortless Energy
University of Chicago (IL)
Energy Efficiency
NanoHarv Technologies
Case Western Reserve University (OH)
Bioenergy
SkySpecs
University of Michigan
Energy Services
Stef Gen
University of Wisconsin- Madison
Renewables
Water & Environmental Technologists
University of Missouri- Columbia
Waste-to-Energy
Early Stage Finalists
eCat
Indianapolis, IN
Next-Gen Transportation
LuminAID
Chicago, IL
Renewables
Lumen Cache
Indianapolis, IN
Smart Grid
Luon Energy
Champaign, IL
Alternative Fuels
Material Mix
St. Louis, MO
Waste-to-Energy
Ornicept
Ann Arbor, MI
Energy Services
Smarter Shade
South Bend, IN
Energy Efficiency
S2E Energy
Evanston, IL
Advanced Materials
Student Challenge and Early Stage finalists receive mentoring and training from the Clean Energy Trust in preparation for their presentations at the Challenge. These presentations will be evaluated by a prestigious panel of clean energy business experts, venture capitalists and scientists on April 4th at Venue SIX10 in Chicago.
Discount tickets are now available for the 2013 Clean Energy Challenge. Prices go up March 1st.
The 2013 Clean Energy Challenge sponsors include: United States Department of Energy, Advanced Energy Economy, Ernst & Young, GE, Joyce Foundation, McCaffery Interests, SC Johnson, United Airlines, Wells Fargo, Abbott Laboratories, Ameren, Invenergy, Missouri Energy Initiative, Nortech, Northwestern University, Purdue University, Skadden, University of Illinois, University of Illinois at Chicago, University of Missouri, Wanxiang America Corporation, Wisconsin Energy Research Consortium, ARCH Venture Partners, Applied Ventures, BP Alternative Energy, ComEd, Danfoss Group Global, DTE Energy, Dow Venture Capital, Exelon Corporation, Illinois Ventures, Johnson Controls, Illinois Department of Commerce and Economic Opportunity, Katten Muchin Rosenman, Khosla Ventures, Kleiner Perkins Caufield and Byers, Lincoln Renewable Energy, Missouri Technology Corporation, New World Ventures, Next Energy, Renergy Capital, Sidley, Steptoe & Johnson, Technology Partners, True North Venture Partners, UK Trade & Investment, Venrock, Walgreens, Agentis Energy, Baird Capital, Case Western Reserve University Great Lakes Energy Institute, Dominion Community Foundation, EDP, Northeast Ohio Public Energy Council, Ohio State University Office of Energy & Environment, Shaw Group, Silicon Valley Bank, University of Dayton and University of Missouri.
About the Clean Energy Trust:
The Clean Energy Trust was founded by prominent business and civic leaders to accelerate the pace of clean energy innovation in the Midwest. The trust is supported by grants from the U.S. Department of Energy, the Illinois Department of Commerce and Economic Opportunity, the Joyce Foundation, the Chicago Community Trust, the Small Business Administration and donations from over 50 investors, corporations, universities and trade groups. For more information, visit www.cleanenergytrust.org.
Featured Product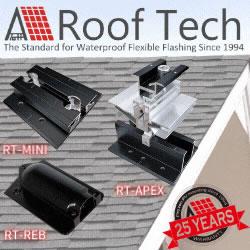 Now Roof Tech brings you the most innovative, watertight mounting systems ever developed for solar photovoltaic systems. Designed and manufactured exclusively for us by Japan's longtime leader in roofing technologies, Roof Tech products are 100% code-compliant and offer fast, simple installation and huge savings on shipping costs due to their compact, rail-less design. Learn more about our full line of versatile PV mounting solutions now available for residential installations. The next generation in rooftop solar mounting solutions."