The wind turbine market suffers from manufacturing overcapacity, falling subsidies, and uncertainty in some wind power sectors.
LONDON, UK (GlobalData), 20 February 2013 - Despite the ongoing growth expected in global wind power installed capacity, wind turbine manufacturers have several major hurdles to overcome if they are to thrive in a challenging and highly competitive market, states an alternative energy expert for research and consulting firm GlobalData.

The wind turbine market suffers from manufacturing overcapacity, falling subsidies, and uncertainty in some wind power sectors. Vestas' announcement of its 2012 results brought mixed news, with the world's largest wind turbine manufacturer anticipating weaker sales and revising shipment forecasts downwards as a result.
Jennifer Santos, GlobalData's Senior Energy Consultant, believes the key to success is frugality:
"Costs must be kept as low as possible. Cost-saving programmes initiated by Vestas last year, including rationalising its manufacturing base and reducing headcount, seem to have paid off and saw the company earning a positive cash flow in the fourth quarter of 2012.
"Similarly, revenues and operating profits before special items reached their highest level in the same quarter of last year. Gamesa expects to continue with its cost-cutting programme this year by closing more than a third of its offices and further reducing its debt."
The US and China – the dominant forces in the wind turbine production business – currently account for 60% of the global wind power market, but their potential for significant turbine manufacturer revenue generation seems slim.
"Although the Production Tax Credit (PTC) was extended for another year in the US, the lack of a long-term, subsidy-free approach will prevent the US wind power sector from fully taking off in 2013. China, on the other hand, is dominated by numerous local manufacturers who all want to take a piece of the pie," explains Santos.
Even the booming offshore wind sector has a number of obstacles for market players to overcome including supply chain constraints, grid connection issues and technology problems.
"On a more positive note," says the consultant, "it looks as though turbine prices have bottomed out – at least for the leading manufacturers. A number of wind turbine manufacturers are developing new products which are arguably higher priced per MW than conventional wind turbines."
She adds: "If turbine manufacturers can drive down costs further in 2013, then a return to profitability is possible and prices at Ä1m per MW looks sustainable."
Wind Turbine Market: Where Nothing is Constant but Change
ABOUT GLOBALDATA-
GlobalData is a leading global research and consulting firm offering advanced analytics to help clients make better, more informed decisions every day. Our research and analysis is based on the expert knowledge of over 700 qualified business analysts and 25,000 interviews conducted with industry insiders every year, enabling us to offer the most relevant, reliable and actionable strategic business intelligence available for a wide range of industries.
For more information, please contact our Press Office on +44 (0)1204 543 528 or at pr@globaldata.com
Featured Product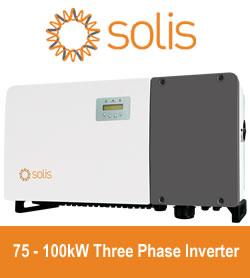 Solis75kW - 100kW series high-power string inverters are widely used in industrial and commercial rooftops. Solis's new three-phase string inverter is the first choice for industrial and commercial photovoltaics. 75-100kW three phase series string inverter have Maximum 28 strings input, support "Y" type connection in DC side. Maximum string input current 13A, support bifacial modules access.Supports anti-PID function to improve system efficiency.