The WindFloat Pacific Demonstration Project is centred around a 30MW floating offshore wind farm
Recently, renewable energy technology developer, Principle Power, was awarded a Department of Energy grant worth $4M and up to $47M in total funding, to support its WindFloat Pacific Demonstration Project.

Official project partners
In that connection, Principle Power has announced the list of official project partners, all marked to deliver an essential contribution to the WindFloat project. MacArtney Underwater Technology is proud and pleased to feature on this list and to be a part of such a promising and large-scale project.
The list of project partners also include: Siemens Wind Power, Houston Offshore Engineering the Pacific Northwest National Laboratory, the National Renewable Energy Laboratory, RPS Evan Hamilton, Forristal Ocean Engineering, the American Bureau of Shipping and Det Norske Veritas.
The project
The WindFloat Pacific Demonstration Project is centred around a 30MW floating offshore wind farm, planned to be located approximately 25 kilometres west of Oregon's Port of Coos Bay.
To date, due to technology and project economics, offshore wind farm locations have been limited to environmentally and stakeholder sensitive shallow inshore waters. However, based on a patented floating foundation for offshore wind turbines, the innovative features of the WindFloat allow turbines to be placed at deep water locations, out-of-sight from shore where the wind is stronger and more consistent.
The WindFloat offers considerable economical advantages over traditional offshore wind solutions, since the entire turbine and floating foundation is built and assembled on shore, and installed using conventional tug vessels. This way, the WindFloat is also a more cost-effective, simpler and less risky approach to offshore wind development. A prototype of the WindFloat system has been operating successfully off the coast of Portugal since October 2011. This installation marks the first multi-megawatt offshore wind turbine to be installed without the use of any heavy lift offshore vessels.
Joint efforts and critical steps
According to Alla Weinstein, CEO of Principle Power, "the WindFloat eliminates many installation and environmental risks, while offering access to more robust wind resources, resulting in a reduction in the cost of energy". "The DOE grant, the support of the State of Oregon, the Port of Coos Bay, and the project partners are the essential elements for the success of the project. The future of the offshore wind industry lies in deeper waters and we are now taking the critical next steps."
A more elaborate scope of work for the Principle Power project, as well as the scope of involvement by MacArtney Underwater Technology, will be finalised in the coming months. More information will follow upon disclosure. Meanwhile, MacArtney remains confident that its underwater technology and connectivity systems will provide a key contribution to the WindFloat project.
More about MacArtney renewable energy solutions at www.macartney.com/renewable-energy
Featured Product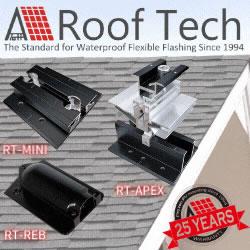 Now Roof Tech brings you the most innovative, watertight mounting systems ever developed for solar photovoltaic systems. Designed and manufactured exclusively for us by Japan's longtime leader in roofing technologies, Roof Tech products are 100% code-compliant and offer fast, simple installation and huge savings on shipping costs due to their compact, rail-less design. Learn more about our full line of versatile PV mounting solutions now available for residential installations. The next generation in rooftop solar mounting solutions."