Silicon Energy's module performance is the result of its innovative design, which features double tempered glass construction laminated using an advanced encapsulant to survive extreme environmental conditions.
Seattle, WA – February 19, 2013 - Silicon Energy's double-glass Cascade Series Photovoltaic (PV) Module outperformed standard PV modules for durability, power performance and extreme terrestrial environmental applications, in an advanced testing process by the National Renewable Energy Laboratory (NREL) that compared the reliability of their construction. Sustainably manufactured in the US, the company's Cascade Series PV Modules are built to last using the highest quality materials for reliable performance in mission critical applications. This focus on quality and durability gives Silicon Energy a Class-A fire rating and the ability to offer an industry leading 30-year warranty.

Funded by the U.S. Department of Energy, NREL's National Center for Photovoltaics (NCPV) is the United States' primary laboratory dedicated to PV research and development. The lab focuses on technology innovations to drive industry growth and leadership in U.S. PV manufacturing. The NCPV included Silicon Energy in a "Test-to-Failure of Crystalline Silicon Modules" study which compared the durability, reliability and performance of PV modules. NREL's accelerated lifetime testing simulates severe environmental conditions, including repeated thermal cycling from -40 to 185°F with 85% relative humidity and system bias applied.
Silicon Energy's Cascade Series module was tested along with five of the top twenty PV module manufacturers by megawatt sold in 2010, and dramatically outperformed them under the accelerated test scenarios. While, the standard glass/plastic backsheet PV modules experienced a variety of failures ranging from back sheet cracking, moisture intrusion leading to cell corrosion, potential induced degradation, shunting, and delamination, Silicon Energy's module experienced none of these and emerged from the testing environment with no electrical safety failures and no performance degradation.
Silicon Energy's module performance is the result of its innovative design, which features double tempered glass construction laminated using an advanced encapsulant to survive extreme environmental conditions. One such environment is Puget Sound Energy's (PSE) Wild Horse Wind and Solar Farm at 3,500 ft on the slopes of Whiskey Dick Mountain in the Washington Cascade Mountains, an installation that exposes the Silicon Energy modules to severe weather, temperatures, and wind gusts up to 120 mph. "Silicon Energy panels were installed at Wild Horse more than three years ago," said Adam Crawford, Puget Sound Energy Community Service Coordinator. "Not only have the panels withstood the extreme temperature variations and high wind conditions in Central Washington, but we also receive complements on the aesthetics of the panels from our visitors."
This feeling of confidence in Silicon Energy is shared by Minnesota-based solar installer, Powerfully Green, who almost exclusively installs Silicon Energy modules. According to Powerfully Green owner Rebecca Lundberg, "Silicon Energy modules are the PV solution of choice. We depend on these modules for durability and maintenance-free operation. Our most demanding commercial and residential customers insist upon these modules for their reliable performance. Silicon Energy's double-glass modules are the best aesthetic option, and give us the ability to integrate PV into beautiful structures like patio covers, carports, and awnings."
Silicon Energy's President, Gary Shaver commented, "We appreciate the opportunity to participate in NREL's cutting edge research, and are thrilled with our performance in their rigorous testing environment. Silicon Energy is committed to quality and durability, and our next generation Cascade Series module builds off of this knowledge and success. This recognition demonstrates that Minnesota and Washington investments in job creation enable innovative US PV manufacturers to build credibility leading to economic growth and job creation."
Silicon Energy modules have been installed in more than 1500 projects nationwide.
About Silicon Energy
Founded in 2007, Silicon Energy delivers the highest quality and most durable photovoltaic (PV) modules on the market today, backed by one of the best warranties in the world. Located in Washington and Minnesota, Silicon Energy's sustainable approach to doing business offers customers a world-class, locally manufactured and environmentally-friendly solar PV product. The company's philosophy of supporting the local and US economy and its commitment to creating long-lasting, aesthetically pleasing PV allows customers to be confident that while they are reducing their carbon footprint they are also contributing to their local economy. Silicon Energy PV Systems are available through select partners for home, commercial, government, and utility installations. For more information about Silicon Energy, please visit www.silicon-energy.com or call (360) 618-6500 or (218)-789-1710.
Featured Product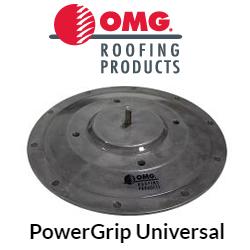 Eliminate Solar Rack Ballast and Reduce Rooftop Material Handling. PowerGrip™ Universal (PGU) is a commercial roof mount system designed to secure solar racks and other equipment to any type of commercial roofing system. PGU provides a secure connection directly to the roof deck or structural members and is designed to reduce or eliminate ballast in solar racking systems, so there's less weight on the roof and less material handling. Made of heavy-duty cast aluminum, PGU units include a base ring which is secured through the roofing cover and into the structural roof deck, and a waterproof top plate.