Solarbrush among finalists of the Code_n Contest, award ceremony at IT-tradeshow CeBIT on March 07th 2013***** Cost-effective, automatic cleaning of solar panels, that lose up to 35 percent of their efficiency due to uncleanliness***** Solarbrush is ten times less expensive than comparable robots***** Small scale and long term tests are being conducted prior to the planned mass production of Solarbrush***** Numerous awards received such as "Land of Ideas", the Seal of Quality awarded at "Workshop N" (founded by the German Federal Government's Department of Sustainability), the Clean Tech Media Award and, most recently, first place in the 'hardware' category at the start up event series, Hy!Berlin, in which many investors were in attendance
Berlin, February 19th, 2013 – Ridha Azaiz, an aspiring German Engineer, had a dream. He wanted to build a robot that restores the efficiency of solar power systems by cleaning the panels so they function properly. In 1997 Ridha Azaiz was thirteen, and it bothered him that if a solar power system wasn't cleaned, the energy yield of the solar panels rapidly decreased. In 1998, tinkering with his invention led Ridha to the Youth Research Foundation and onto television with his cleaning robot. Solarbrush made its way to Berlin in 2009, then onto California and now into the booming Middle East countries, such as Abu Dhabi.

Only clean Solar Panels operate efficiently
Why Solarbrush? A dirty solar power system only produces two thirds of its power, so Ridha Azaiz has come up with a solution: Where solar power systems are most useful - in the aptly named 'Sunbelt Countries' like Morocco and Saudi Arabia or Arizona and California - are sand deposits which are a major problem for solar panels. Ridha Azaiz's robot brushes sand and dust from solar panels until all the particles fall into the gaps away from each panel and onto the ground. Other robots suck, wash and clean the panels with water and detergent. These devices are difficult to use and require pumps and pipes which are usually more expensive than a small car. However, Solarbrush produced in higher quantities would only cost around $3,000 per robot.
The largest competitors are currently unskilled workers who use simple methods, such as window cleaning to clean solar power plants. This is a gargantuan task that often exceeds that of cleaning the size of 200 football fields which, in the heat of the desert, is not a pleasant job. Solarbrush expects that to be profitable, four robots at a time need to be supervised by a service worker. Currently, the Solarbrush robot needs to be manually moved from one row of solar panels to the next.
Winner of a trip to Silicon Valley, Solarbrush is the recipient of this year's hy! Berlin Hardware Award.
Final comments from the high profile jury of the startup competition Hy! Berlin praised the concept, and investor Esther Dyson was pleased with the focus of Solarbrush: "It's great because it shows clear problem solving, very targeted and specific" Vice President of the incubator PCH International, Aymerik Renard, and technology blogger Om Malik were part of the panel of judges that deemed Solarbrush the winner in the category 'hardware'. Along with the prize money of 10.000 Euro, Ridha Azaiz has also won a business trip to Silicon Valley where he will meet with well known investors.
The day prior, in Abu Dhabi, Ridha Azaiz was demonstrating Solarbrush at the World Future Energy Summit and already had many enthusiastic onlookers.
The Code N-Award provides concrete feedback, prize money along with international contacts for start-ups!
As a nominee, the Solarbrush founder is excited to attend the Code N Award which will take place at the CeBIT on the 7th of March.,Many investors, 50 founders from the green tech industry, as well as thousands of visitors are due to attend Hall 16 at this year's CeBIT.
Solarbrush, along with five other start ups, was chosen to present the prototype at the CeBIT opening press conference on February 20th, 2013.
The Code N-Awards are presented by Ulrich Dietz, CEO of the IT service provider GFT. The competition is supported by CeBIT and the consultancy firm Ernest & Young.
The inventor and designer, Ridha Azaiz describes his goals for the coming months as follows: "I have the University Degree of Engineering in my hand and can now fully concentrate on Solarbrush. I want to test the device as soon as possible on large systems. I hope to meet the right partners (tbc) at the award ceremony of the World Future Energy Summit, on a business trip to Silicon Valley and the Berlin Energy Days. Solarbrush is now growing fast, so I just need exploratory investors and partners for distribution."
About Solarbrush
Solarbrush (www.solarbrush.de) is a robot designed to clean solar power systems, which maintains the efficiency and economy of solar cells. The robot is designed for use within aptly named 'Sunbelt Countries' – countries that are particularly sunny and dry. The device brushes residual dust and sand from the solar panels by following programmable patterns of movement. Solarbrush avoids air and water pressure cleaning in favor of battery life, low maintenance and cost.
Since contamination restricts the operation of solar cells by 35 per cent, effective cleaning of the modules contributes significantly to the effective operation of a solar power system. In countries such as Saudi Arabia and Morocco, the efficiency of solar panels can fall by as much as 70 per cent after a sandstorm. Currently, prototypes of the robot cleaner are being tested and distribution partners acquired. A price of around $3,000 per device is accessed for mass production. Competing devices cost about ten times this amount. Ridha Azaiz is the inventor and designer of the Berlin Solarbrush and is a Mechanical Engineer who, at the age of thirteen, originally developed the first of this prototype.
Featured Product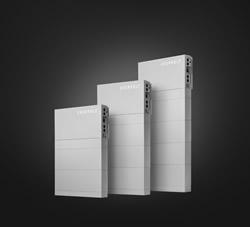 Offer homeowners best-in-class solar and energy storage in one money-saving bundle. Panasonic's new EverVolt™ Series modules come in 350W, 360W, 370W & 380W models and work seamlessly with their EverVolt battery storage - all warrantied by one of America's most trusted brands.