Queen Anne's County, MD – (February 25, 2013) Increasing energy costs, be they from electricity, propane or coal, has a major effect on a farm's bottom line. With electricity rates steadily increasing annually, it has become critical to a farm's future to do what it can to offset those costs. For Ferrell Farms in Queen Anne's County, MD, the answer is solar.
"I decided to make the switch to Solar to save money and help with electric costs," said Ferrell, owner-operator of Ferrell Farms, a grain and poultry farm in Henderson, MD.

On average, utility companies increase electric rates by 3% annually. Daniel Ferrell's system is projected to save him more than $70,000 in electric costs over the next 30 years by locking in his energy rate.
Ferrell contracted Paradise Energy Solutions, a solar installer based in Lancaster County, PA with six branches serving nine states and a local office here in Salisbury, to install his 24 kW dual-axis tracking solar system, featuring 4 pole-mounted AllSun Trackers.
Designed and manufactured in Williston, VT, AllSun Trackers use innovative GPS and wireless technology to follow the sun throughout the day to boost solar energy production by up to 45 percent over roof-top installations. The ground-mounted solar systems are designed for homes, businesses, non-profits, and larger commercial-scale installations.
"By following the sun each day, we can produce more energy for each PV panel, enhancing the value of going solar," said AllEarth Renewables CEO David Blittersdorf, manufacturer of AllSun Trackers. "Our tracker is a solution for residential and commercial customers looking to get more from their solar system."
The modules used in the installation were provided by MAGE SOLAR, a US-based complete solar solution supplier with industry leading warranties and power output. Like almost no other PV module on the market, MAGE POWERTEC PLUS modules are guaranteed to generate 80% of their power after 30 years still. The prospect of increased and prolonged production made Ferrell very excited to take advantage of this new technology.
"I was excited to go with the dual axis tracking system because it offers 30% more production than a standard fixed ground mount," said Ferrell. "With more production, I can have a smaller amount of modules which takes up less space."
"We know how important the bottom line and the return on investment is for the end user client," says Joe Thomas, President and CEO of MAGE SOLAR.
Daniel had previously installed a 50 kW fixed ground mount with another local company and when he decided to add more solar to his property he contacted the local Salisbury solar firm.
"I chose Paradise Energy Solutions to install this system because I like the company, their people and their values," said Ferrell. "They care about their clients and meeting their needs."
Ferrell worked with Paradise Energy Solutions' General Manager and Principal Jason Beiler on his system and Beiler believes that now is the time for farms to embrace solar as a source of additional revenue; almost like a second business.
"Solar allows a farm to increase their bottom line by utilizing all levels of the earth to make or save money by harvesting the sun 12 months of the year," said Beiler. "For any business, reducing energy costs helps brighten and secure its future."
The system is guaranteed by Paradise Energy Solutions to produce a minimum of 43,400 kWh annually which covers roughly 40% of his total energy usage. With the 30% Federal Tax incentive, the MD State Grant, the MD Clean Energy Tax credit and additional revenue from the sale of Solar Renewable Energy Credits (SRECs), the system will pay for itself in just 5 years with a return on investment of nearly 20%.
"If someone is considering making the switch to solar, I'd tell them that it's a great place to put your money and it has an attractive look," said Ferrell. "It's a fascinating technology and most importantly, it works."
About AllEarth Renewables
AllEarth Renewables, a 2012 Inc 500 company for fastest growing businesses nationally, has designed, manufactured, and installed over 1,800 complete grid-connected solar tracker systems. Their CEO was recently listed among 25 of "America's Most Promising Social Entrepreneurs of 2011" by Business Week.
www.allearthrenewables.com
www.linkedin.com/company/allearth-renewables-inc
www.facebook.com/AllEarthRenewables
www.twitter.com/allearthrenew
Contact:
Andrew Savage
asavage@allearthrenewables.com
94 Harvest Lane
Williston, VT, 05495
Ph: (802) 872-9600
About Paradise Energy Solutions
Paradise Energy Solutions, LLC is an experienced and qualified solar energy contractor with offices in Pennsylvania, Illinois, Maryland, Massachusetts, New York and Ohio. They are a fully licensed and insured Solar Energy Contractor in Pennsylvania (PA), New Jersey (NJ), Maryland (MD), Delaware (DE), New York (NY), Massachusetts (MA), Ohio (OH), and Illinois (IL). They are also an "Approved Solar PV Installer" under many state rebate programs in the states listed. Paradise Energy has 45 employees and has installed a total of over 5 megawatts of solar-power as of the end of 2012. In addition, Paradise Energy Solution's CEO Tim Beiler, as well as Larry Beiler, Manager of PA Operations, have earned the industry's leading recognition of expertise as a certified installer of solar electric systems (aka "photovoltaic" or "PV" systems) and certified technical sales from the North American Board of Certified Energy Practitioners (NABCEP).
www.paradisesolarenergy.com
www.linkedin.com/company/paradise-energy-solutions-llc
www.facebook.com/ParadiseEnergySolutions
www.twitter.com/paradisesolar
Contact:
Jason Hohl
jhohl@paradiseenergysolutions.com
875 Brackbill Rd
Gap, PA 17527
Ph: (717) 407-5152
Fax: (717) 407-5163
MAGE SOLAR – The Sun on Your Side
MAGE SOLAR USA, headquartered in Dublin, Georgia, specializes in complete solar systems and provides high-quality photovoltaic modules, intelligent mounting systems and high-performance brand inverters. As a subsidiary of the international MAGE GROUP, it uses the Group's 40 years of know-how to develop optimally coordinated system solutions. A competent partner network guarantees profitable solar energy systems for customers throughout the Americas and in 21 more countries in Europe, Asia, Africa, and Australia. In 2011, the company generated U$280 million in sales with around 180 employees.
www.magesolar.com
www.linkedin.com/company/mage-solar-projects-inc
www.facebook.com/magesolar
www.twitter.com/mage_solar
Contact:
Susanne Quinn
susanne.fischer-quinn@magesolar.com
720 Industrial Boulevard
Dublin, GA 31021
Ph: (478) 609-6790
Fax: (478) 275-7685
Featured Product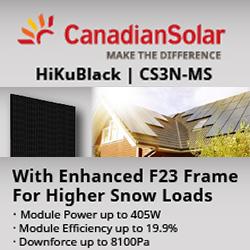 Aesthetic appearance for residential systems: With black backsheet & black frame, Power range 380 ~ 405 W, Low power loss in cell connection. Enhanced reliability: · Low temperature coefficient (Pmax): -0.34 % / °C, LID LeTID less than 2.0%, Lower hot spot temperature, Better shading tolerance.