(CSDR) is a US manufacturer of Concentrated Photovoltaic Dual Axis tracked power systems featuring the SC-90 25KWp Power Tracker.
Currently, their global manufacturing capacity is at 300MW annually and is expected to achieve 600MW by mid 2014. The SC-90 Power Tracker System offers the lowest cost per kW, using 10000m2 per MWp and provides reliability and performance guaranteed for 30 years, backed with third party coverage. The system design has been 9 years in the making and has 5 years on sun with complete performance monitoring. Over the last three years, they have perfected a "Zero Defect" manufacturing process which requires each module to be UV and x-ray tested 4 times during the production process.

Quality is a decision not an accident!
The CSDR CPV system is designed and developed by MST of Israel under the supervision of Mr. Dov Raviv, father of the Arrow Missle, Shavit Satellite Launcher and the Lavi Fighter. CSDR's system success stems from reliable module and tracker design, precise in-house fabrication and assembly as well as collaboration with heavyweight industry partners such as Solar Junction, Boeing Spectrolab, Schneider Electric, Reflexite, SolarEdge and ORTEC.
CSDR's collaboration with these global industry leaders gives them a lengthy and well-established scientific heritage.
CSDR will be launching their new CPV system with precision tracking at CPV International 2013 (21-22 Madrid) and will have key speakers there to elaborate on the science and technology behind the success of their system. They are the Platinum Sponsor of the event and will be exhibiting as well. If you would like more information on CSDR, you may visit their booth at CPV International 2013 or to schedule an interview with Randall Roth, please call Bianca Kamai at 310.691.3631 or email bianca@csdrinc.com .
For more information about CPV International, please contact:
Letty Thomas
PV Insider
lthomas@pv-insider.com
Featured Product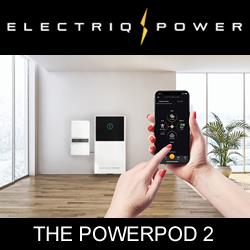 The Electriq PowerPod 2 is a fully-integrated home energy storage, management, and monitoring system powered by LFP batteries. The high-performance, cobalt-free product includes a hybrid solar/battery inverter controlled by intelligent software. The PowerPod 2 provides backup power and can self-consume or export excess power back to the grid.