Naval, rescue and luxury vessels depend on water-resistant, durable power management systems from OutBack Power
ARLINGTON, Wash.--OutBack Power Technologies, Inc., a designer and manufacturer of advanced power electronics for renewable energy, backup power and mobile applications, today announced several of the marine organizations who use OutBack Power's marine-grade power solutions to ensure peace of mind for mariners and boaters who depend on clean, reliable AC power during sea voyages. With OutBack's solutions for marine applications, organizations such as Emery Electric, International Rescue Group and Nordhavn Yachts can count on safe seafaring with reliable onboard power even miles from shore.

The international demands of travel and trade often necessitate extended voyages on the high seas. Rising diesel and gasoline prices place a premium on fuel efficiency for ships; therefore, any extended power or lengthened life of marine equipment means a steep advantage in cost savings and safety. For marine applications, power electronics must be rugged, water-resistant, dependable and low-maintenance.
"Reliable and efficient power is vital for travel, operations and safety onboard any size or type of seafaring vessel," said Harvey Wilkinson, general manager of OutBack Power. "When miles from the nearest shoreline or port, loss of power is more than an inconvenience; it can become a matter of life or death if vessels lose power, and with it, navigation and steering in choppy waters. Marine customers trust us to deliver the power management solutions they need to ensure safe travels and reduced downtime."
Vessels outfitted with OutBack Power sealed FX inverter/chargers use them as standalone battery chargers for on-board diesel generators or to power critical electrical components for steering, navigation and fire pump hauling. Specially designed to survive in environments that would quickly render useless other marine inverter/chargers, OutBack Power's die-cast aluminum chassis with powder-coated finish prevents corrosion and the advanced sealed design and special water and salt-resistant internal and external componentry keeps the FX inverter waterproof with gaskets and o-ring seals on seams and openings.
What OutBack Power marine customers are saying:
Emery Electric, Victoria, British Columbia:
"In 2006, Emery Electric began providing maintenance and engineering upgrades to the Royal Canadian Navy's Orca vessels, which are primarily used for training naval officers for at-sea service," said Guy Barrett, defense programs manager at Emery Electric. "It was essential that the vessels' power conversion systems met the Navy's requirements for watertight, durable systems with small footprints but sufficient power output. OutBack's performance onboard the Orcas has been the best I've seen, and now Navy and auxiliary vessel crews jockey over which boat will receive the next OutBack Power installation."
International Rescue Group, Alameda, Calif.:
"After tsunamis, hurricanes or other catastrophic events, International Rescue Group volunteers enter coastal areas on our repurposed Thunderbird 2, which runs on a diesel-electric hybrid drive engine and solar power via OutBack Power equipment, to deliver medical help, supplies, fresh water and food to disaster-hit coastal communities. With OutBack's FLEXmax 80 charge controllers, we can reduce fuel consumption and rely on renewable energies as our main power source to keep our environmental footprint as small as possible. We aim to extend this success throughout our fleet and to the additional boats we plan to acquire this year," said Ray Thackeray, executive director at International Rescue Group.
Nordhavn Yachts, Dana Point, Calif.:
"Our vessels boast the highest circumnavigation rates in the industry, breaking cruising records all over the world, which fulfills our company mission to build the best quality and most seaworthy luxury yachts," explained Sky Scott, production manager of Pacific Asian Enterprises, builder of Nordhavn Yachts. "With OutBack Power, we can design electrical systems that meet the marine-quality demands of our customers since OutBack's versatile devices bring a measurable level of reliability, convenience and safety to every one of our boats."
For more information on OutBack Power:
*OutBack Power marine case study: http://bit.ly/13IPUCM
*OutBack Power on Facebook: http://on.fb.me/X6fQJl
*OutBack Power on Twitter: http://bit.ly/WmhFhs
About OutBack Power Technologies
OutBack Power Technologies, a member of The Alpha Group, is the leading designer and manufacturer of advanced power electronics for renewable energy, backup power and mobile applications. With an emphasis on product performance, OutBack has established itself as the product of choice in harsh environmental conditions and applications where product reliability is paramount. Whether the application is village microgrids in Africa, rural electrification projects in Latin America, remote off-grid cabins in Alaska or suburban homes in Southern California, OutBack Power Technologies has set the bar for delivering advanced power conversion electronics. For more information, please visit www.outbackpower.com.
Featured Product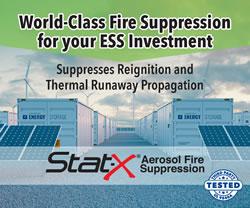 Stat-X® condensed aerosol fire suppression is a solution for energy storage systems (ESS) and battery energy storage systems (BESS) applications. Our Stat-X condensed aerosol fire extinguishing product was tested for efficacy in suppressing li-ion battery fires. It was found that the product successfully extinguished single and double cell battery fires. This testing was conducted in parallel with a large battery fire testing program on behalf of a large energy storage company.