Envelope for Green Buildings • Participation from more than 70 exhibitors and around 5,000 visitors • Special session by Prof Dr. Werner Lang, Technical University of Munich • Construction industry expected to grow by 20 per cent annually
Mumbai : With its premier in New Delhi in 2011, followed by a subsequent successful event at Bangalore in 2012, fensterbau/frontale India 2013 is ready for its third promising edition in Mumbai. Being organized by Germany's NürnbergMesse Group in cooperation with the Indo-German Chamber of Commerce, ift Rosenheim and the International Fenestration Forum, fensterbau/frontale India is a leading exhibition on window, door and facade technology. The event is scheduled to take place from 7th - 9th March at Bombay Convention & Exhibition Center.

The Indian fenestration and curtain wall industry is in an emerging state with respect to technology, capability and size. It is directly linked to the construction industry's performance, which is expected to grow by 20 per cent annually. The fenestration industry in India though laden with challenges is now slowly and gradually finding more acceptance as the common man becomes more aware of the importance of good windows and doors. fensterbau/frontale India will present the industry's latest know-how in concentrated forms. You will see variety of options for using cutting edge technologies and materials to optimize existing buildings and for pioneering plants for new building projects.
"The window market in India has great potential. Quality products are being appreciated in India and the use of right technology will ensure better functionality. A diverse range of innovative and unique products will be available to view at fensterbau/frontale India in Mumbai" says Frank Venjakob, Director International Exhibitions at NürnbergMesse, Germany.
The event will provide updates on the latest developments and innovations in Semi-finished materials; production aids; glass and glass products; hardware, fixing and safety equipment; shading and ventilation equipment; machines and installation, tools; operating systems and operating equipment; Components and prefabricated elements; and associations, research & development and technical information.
The exhibition's extensive supporting program will give you firsthand information and ideas and would cover relevant topics such as energy efficiency, cutting building costs and architectural trends in building, finishing and renovation. Keynote speakers such as Dr. Prem Jain, Chairman IGBC, IFF; Ms. Sheetal Rakheja, President IFF; Dr. Prof. Werner Lang, Architect, Director, Centre of Energy Efficient and Sustainable Design and Building, Technical University of Munich and many others will provide an insight into the industry's latest innovations. The event is expected to witness participation from more than 70 exhibitors and around 5,000 visitors. Major players like Aluplast, Rehau, Veka, Elumatec, Geeta Group of Companies would present their latest technology and innovative products at the event. Important highlights include Conference on Envelope for Green Buildings, Workshop for local Fabricators and an Architects forum on the 8th of March with special guest Prof Dr. Werner Lang.
About NürnbergMesse group
NürnbergMesse is one of the 20 largest exhibition companies in the world and among the Top Ten in Europe. The portfolio covers about 120 international exhibitions and congresses at the Nürnberg location and worldwide. Every year, some 25,000 exhibitors (international share:33 %), 805,000 trade visitors (international share: 17 %) and 315,000 consumers participate in the own, partner and guest events of the NürnbergMesse Group, which is present with subsidiaries in China, North America, Brazil and Italy. The group also has a network of some 43 representatives operating in more than 80 countries.
About the fensterbau/frontale
fensterbau/frontale in Nürnberg is the undisputed world leading exhibition for windows, doors and facades. It has developed continuously in line with the world market to become the number one information pool for international decision-makers. In 2012, 1,277 exhibitors from all over the world made the Exhibition Centre Nuremberg the hub for wood crafts, windows, doors and facades. Here some 100,000 visitors from all over the world find the latest technologies, components and prefabricated units, plus an attractive supporting programme and expert advice.
For more information visit http://www.frontale-india.com/
Media Contact -
Mutual PR
Riya Banga
riya@mutualpr.com
+91 9930375208
Featured Product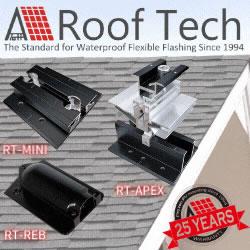 Now Roof Tech brings you the most innovative, watertight mounting systems ever developed for solar photovoltaic systems. Designed and manufactured exclusively for us by Japan's longtime leader in roofing technologies, Roof Tech products are 100% code-compliant and offer fast, simple installation and huge savings on shipping costs due to their compact, rail-less design. Learn more about our full line of versatile PV mounting solutions now available for residential installations. The next generation in rooftop solar mounting solutions."