David Johnson will speak about, "The role of the Servicer and Back-up Servicer in Solar Securitizations" at the Solar Power Finance and Investment Summit on March 18th
San Diego, CA March 05, 2013

David Johnson, CEO of First Associates Loan Servicing, will speak at the Solar Power Finance and Investment Summit in San Diego, California on Monday, March 18th. Johnson will discuss the important roles that servicers and back-up servicers play in solar securitizations.
As CEO of First Associates Loan Servicing, Johnson has spearheaded the development of new and innovative approaches in the industry that have dramatically improved the value of serviced portfolios while rapidly increasing customer satisfaction rates. As a result, the company has become the nation's fastest growing loan servicer with a multi-billion dollar portfolio under management.
"This is an exciting time in the solar finance market," said David Johnson. "The industry is working together to create the financial standards and processes that will accelerate the already rapid growth of solar power in the United States. First Associates has become a key strategic partner in the space by providing an unbeatable combination of innovation, service, and technology. New offerings like our integrated Financial and Operations & Maintenance service have made us the fastest growing servicer in the consumer market."
"The Solar Power Finance & Investment Summit is recognized as the leading gathering place for the industry's deal makers," said Gretchen Luchsinger, President of Infocast. "We're pleased to have Mr. Johnson join us this year. He brings a unique and valuable perspective to the industry that we are eager to hear."
Additional information regarding SPFIS can be found online at http://infocastinc.com/events/solar13.
About First Associates Loan Servicing
First Associates is one of the nation's premier consumer loan servicing firms comprised of a team of professionals with world class experience, first-rate knowledge and exceptional technology. First Associates provides best-in-class servicing for titled assets and unsecured loan portfolios with a staff that is committed to providing the highest level of service to borrowers while maximizing lender and investor returns. More information is available at http://www.1stassociates.com.
Featured Product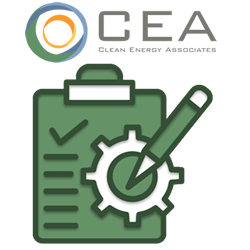 Clean Energy Associates provides a complete quality assurance solution that covers the entire product lifecycle of PV modules, storage systems, and every Balance of Sy stem (BOS) component. CEA's experienced on-the-ground and international team of quality control engineers and account managers offer an unparalleled quality assurance presence that can protect solar and storage investments and ensure future energy-producing viability for the life of the product.