Schletter releases the Fix-EZ solar mounting system for flat roof applications, multifunctional components result in lower price and fewer parts
Schletter, a global manufacturer of solar mounting systems, introduces the Fix-EZ, a new PV mounting system for flat roof applications. Wind tunnel tested with integrated grounding, the Fix-EZ offers 7 or 15 degree module tilt options, and is engineered 100% IBC code compliant.

Designed with multifunctional components the Fix-EZ packs a substantial punch in a small system. System integrated ballast blocks act as ballast weight as well as the system's support mechanism. Module mounting rails support modules and perform as the system's windbreak with Schletter's ETL Listed Rapid2+ modules clamps for bonding/grounding the modules to the rails.
"Easy to put together at a lower cost per kilowatt, this system highlights what Schletter is known for," said Justin Smith, Western Regional Manager at Schletter. Mr. Smith went on to say that "The Fix-EZ is the answer for flat roof applications. It's a high-quality, engineered product at a competitive price."
The basic design of the Fix-EZ comes from the company's Fix-Z Series, incorporating several pre-existing components. Two new features of the system are the ballast block, with integrated connection rod, and a Rapid Angel Connector (L-foot), tying the system together. The company is currently in negotiations with a national supply chain for streamlined, reduced shipment costs of the concrete blocks for customers.
About Schletter
Schletter (www.schletter.us) has designed, developed, and manufactured solar mounting products in the U.S. since 2008, while backed with more than 20-years of solar mounting experience from Schletter GmbH. Since opening its United States facility in Tucson, Arizona Schletter Inc. has manufactured more than 800 MW of installed PV mounting systems. Schletter Inc. offers products for roof mount and ground mount systems for residential, commercial, and utility scale photovoltaic systems. Schletter Inc. is an independent subsidiary of Schletter GmbH, which operates subsidiaries in eleven countries with more than 1,800 employees worldwide. For more information on Schletter GmbH, please visit www.schletter.de.
Featured Product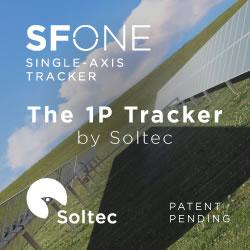 Under the slogan "engineered for greatness", the SF8 tracker aims to revolutionize the photovoltaic market with its new minimum 2x60 configuration and 4 to 6-strings. This tracker is elegantly designed while it reinforces its structure to perform in any terrain. In addition, the SF8 tracker increases the rigidity of its structure by 22% more than the previous generation of Soltec trackers, the SF7. The SF8 is specially designed for larger 72 and 78 cell modules, an increasing market trend.