Collaboration opens the door to green business opportunities, sustainable energy generation and job creation in Orlando, Florida.
Lake Mary, FL -March 7, 2013–ESA Renewables, an industry leader in providing turnkey solar solutions, announced the commissioning of the City of Orlando Fleet Maintenance Building Solar Project. ESA developed and constructed the 417.6 kilowatt (kW) roof-mounted photovoltaic solar array on the Fleet Maintenance Building located on South Westmoreland Drive in Orlando.

This project supports Orlando's commitment to sustainability, facilitates green business opportunities, and promotes green and efficient policies within City departments. The installation of this solar array allowed ESA Renewables, a local business, to work hand-in-hand with Orlando's City government and the Orlando Utilities Commission (OUC) to help preserve Orlando's natural resources and promote an environmentally-friendly lifestyle.
The City of Orlando Fleet Building installation is one of several solar projects ESA Renewables will be constructing in conjunction with OUC. ESA Renewables also has signed a contract to maintain and operate the system for 25 years.
"The collaboration between the City of Orlando, OUC and ESA Renewables presents a promising opportunity for Orlando," said Jeffrey Burkett, President of ESA Renewables. "Not only does this project contribute to the sustainability of our economy through job creation, it also has a positive impact on the environment and our communities. We are excited to be involved with this project for many years to come through our Operation and Maintenance (O&M) services."
"Solar installations like this one – and the community solar farm we willbe working on with ESA later this year – add to OUC's growing use of renewable energy while allowing us to studyand optimize the impact large-scale solar arrays have on our electric system," said Byron Knibbs, OUC Vice President of Customer & Sustainable Services.
The City of Orlando Fleet Maintenance Building solar project is fully operational and will generate approximately 590,000kWh annually, equivalent to powering about 54 average sized Orlando homes and offsetting 2,375 vehicles gas emissions per year. The construction of the rooftop solar array brought 20 green jobs to the City and will provide $800,000 in Energy cost savings over the life of the project.
"Through our sustainability initiative, Green Works Orlando, we are working to ensure our City remains one of the most environmentally-conscious communities in the country," said Orlando Mayor Buddy Dyer. "A key part of our plan is investing in the next generation of clean, green energy, like solar, which will not only help us continue to prevent pollution, but also create new high-tech, high-wage jobs for our residents and further diversify our local economy."
The system consists of 1,392 photovoltaic solar modules and is divided into three separate arrays with a total area utilization of about 50,000 square feet. All the power generated from the solar array will be sold to OUC under a 25-year Power Purchase Agreement (PPA).
About ESA Renewables, LLC:
Located in Lake Mary, FL, ESA Renewables has positioned itself as a leader in the industry providing turnkey solar PV systems globally. ESA owns and operates a diverse portfolio of more than 500 solar PV power generating facilities located in the United States, Puerto Rico, Spain and Italy. ESA's scope of services includes financing, engineering, construction, testing, monitoring and operation and maintenance. With headquarters in Castellon Spain, ESA has additional offices in Florida, North Carolina, Puerto Rico, Chile, and Italy. For more information about ESA Renewables, LLC, please visit http://www.esarenewables.com or call 407-268-6455.
About Green Works Orlando:
Mayor Dyer launched Green Works Orlando in 2007, and since then the City of Orlando has led by example to promote environmental stewardship, educate people about "going green" and encourage others to incorporate a concern for the environment into the everyday workings of government and private business. Some of the initial successes under Green Works Orlando include:
*Achieved more than $1 million in annual energy savings
*Expanded the Downtown LYMMO bus circulator and began SunRail construction.
*Completed eight LEED-certified municipal buildings, including the first newly constructed LEED-certified NBA arena in the country
*Performed energy efficiency retrofits to 1,200 houses
*Planted 10,000 trees and established four community gardens
*Adopted the 2012 Municipal Operations Sustainability Plan
To engage more residents in the City's sustainability efforts, Orlando has launched GreenWorksOrlando.com. This interactive forum allows Orlando residents to provide feedback and further the ideas of other residents as to how to continue to make Orlando a more sustainable and livable community. These suggestions will be used as the foundation for Orlando's future sustainability plans.
Featured Product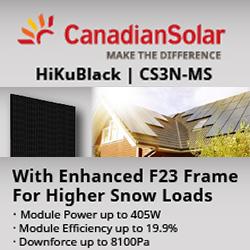 Aesthetic appearance for residential systems: With black backsheet & black frame, Power range 380 ~ 405 W, Low power loss in cell connection. Enhanced reliability: · Low temperature coefficient (Pmax): -0.34 % / °C, LID LeTID less than 2.0%, Lower hot spot temperature, Better shading tolerance.