MREA Receives multiple donations over the years and now has the components to perform two solar installs via their Advanced PV Installer courses.
Custer, WI – March 7, 2013 – In his State of the Union address, President Barack Obama voiced his support for renewable energy generation saying, "I will direct my Cabinet to come up with executive actions we can take, now and in the future, to…speed the transition to more sustainable sources of energy." With the influx of solar energy jobs, the industry will need a larger trained workforce. The Midwest Renewable Energy Association (MREA) will offer two courses to assist people in getting hands-on training in solar photovoltaic (PV) installation. All this made possible due to donations from multiple companies over the years.

Thanks to Power-One (inverter manufacturer) and Kyocera (PV manufacturer) MREA will be able to instruct for a roof mount PV installation. A Ground mount installation course has been made possible due to donations from Fronius (inverter manufacturer), Sanyo (PV manufacturer), and most recently US Solar Mounts (PV mounting structure manufacturer).
MREA will offer, at the ReNew the Earth Institute in Custer, Wisconsin, two sessions of Advanced Photovoltaic Installation, where participants will install these two very different photovoltaic systems onsite from start to finish. The first course will be held on April 6 and 7 where participants will install a permanent utility-interactive PV system with micro-inverters on a roof. The second course will be held April 18-21 where participants will install a permanent utility-interactive PV system on two ground mounts. Please visit the MREA Course Calendar for more information and to register: www.midwestrenew.org/workshops.
The Midwest Renewable Energy Association (MREA) is a non-profit 501(c)(3) educational organization. Founded in 1990, the MREA promotes renewable energy, energy efficiency, and sustainable living through education and demonstration. To learn more, call 715-592-6595 or visit www.midwestrenew.org.
Featured Product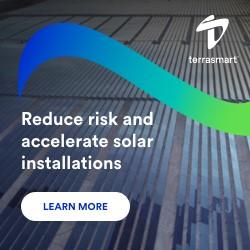 The first and only single axis tracker that allows you to turn unusable land into valuable assets. Built tough for reliable performance, TerraTrak will maximize energy output and returns conquering the most challenging sites. Employ PV where you never thought possible through durable mechanics and intelligent control technology.