REFUsol inverters achieve maximum yield in the solarpark honored by a committee of experts
Metzingen/Germany, March 5, 2013 – During POWER-GEN International Project of the Year Gala Solarpark Meuro was honored as best solar project of the year in 2012. REFUsol GmbH has equipped the solar park project in Germany (Schipkau-Meuro in Brandenburg) with 2,578 solar inverters to achieve maximum yields.

The Solarpark Meuro beat out 43 other entrants. The committee, a team of eight editors from Power Engineering and Renewable Energy World scored the projects based on logistics, innovation and groundbreaking technology used, impact on the community and any hurdles overcome. The project was chosen because of its many benefits. It was built on a brownfield, a former lignite mining strip using highly innovative technologies. In addition, it affects its environments in a positive way: the project created hundreds of local jobs. The "Project of the Year Awards" are run annually by Power Engineering und Renewable Energy World.
REFUsol equipped the installation with a nominal power of 70 MW across 150 hectares open space with 2,540 string inverters REFUsol 020K and 38 central inverters REFUsol 333K. The central inverter REFUsol 333K lowers the total system costs of solar plants and industrial rooftop installations significantly. Due to the high input voltage of the REFUsol 333K longer strings can be realized, which leads to lower losses within the string but at the same power and performance level. The higher output voltage of 690 V allows the simultaneous operation of several devices on one transformer. The REFUsol 020K string inverter can be integrated within solar installations in various ways to achieve maximum yields.
The solar park features 306,000 solar modules and is built on the grounds of a former lignite mining area. It provides 17,500 four-person households with electricity, hence reducing the carbon footprint by 52,000 tons of CO2 per annum. The project was built by GP Joule.
"We're proud that with our inverters we have delivered a key product for the best solar project of the year 2012," said Michael Groll, head of global marketing at REFUsol GmbH. "The combination of our inverters and the solar modules makes this solar park one of the biggest and most efficient plants worldwide."
The string inverters used on this project are the same as REFUsol inverters sold in North and South America with the addition of a combiner box and UL Certification.
About REFUsol GmbH
With over 45 years of experience in power electronics, REFUsol is one of the top three providers of solar inverters in Europe and one of the fastest growing companies in this field. REFUsol's efficient and award-winning solar inverters help customers maximise the yield of their photovoltaic plants, whether for small roof-top installations or large-scale solar plants. REFUsol is headquartered in Metzingen, Germany and has further international offices in Europe, Korea, China, India, Japan, Australia and the U.S. as well as sales and service partners in key strategic photovoltaic markets around the world. Please visit www.refusol.com for more information.
Featured Product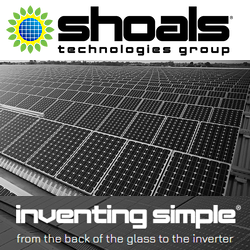 Inventing Simple® isn't just a slogan to us, it's a way of life. Using simple plug-and-play ideology, we revolutionized solar installations in 2003 with our Interconnect Systemâ"¢. Our harnessing system is now the gold standard EPC's use around the world. By using simple ideas, we are making solar energy a more affordable and clean power source for future generations.