The customized Go Power! inverter solution was chosen as the lighter and more compact contender with a competitively-driven price.
VICTORIA, British Columbia--Carmanah Technologies (TSX:CMH) announces that a major Utility in the United States is equipping its fleet of service and repair vehicles with the company's proprietary Go Power! brand inverters. Able to respond to a unique challenge the Utility was having in outfitting their existing fleets with pure sine wave inverters, Go Power! answered the call with a custom fit solution valued at over $500,000.

The customized Go Power! inverter solution was chosen as the lighter and more compact contender with a competitively-driven price. The system allows drivers to power tools or office equipment without the use of grid-power by drawing directly from the vehicle's battery bank. Go Power! has provided complete inverter power solutions for a variety of fleet, utility and work trucks across North America. Go Power! has also been featured in Canada's Go Tire mobile fleet, recently seen on CBC's reality show, Dragon's Den.
"The Go Power! team was instrumental in helping us design a power solution for our vehicles and they supplied a fantastic product. Their customized solution is a great fit for us" says a representative from the Utility fleet's upfitting provider, who is responsible for the installation.
Bruce Cousins, Carmanah CEO, comments, "With the strong market share position and proven performance of the Go Power brand, we are now able to leverage this brand equity into fleet sales. Such large orders represent an increasing percentage of our revenue base."
Carmanah's Go Power!™ team will be exhibiting their power inverter product line at the following national trade shows: The Work Truck Show, March 6 – 8, Booth 5764; Mid-America Trucking Show, March 21 - 23, Booth 65181 and NAFA Fleet Management Association's Institute and Expo, April 24 – 25, Booth 722. For more information, please contact Mike Stephens at mstephens@carmanah.com.
About Carmanah Technologies Corporation (TSX: CMH)
Carmanah Technologies Corporation is a global provider of renewable and energy-efficient technologies. The Company's proprietary brand, Go Power! is a leader in the mobile, solar power industry with more than 15 years of experience in the RV and fleet truck market. Go Power! by Carmanah is one of North America's most popular and recognized brands in solar power for both recreational and industrial use. Products include solar charging kits, pure and modified sine wave inverters and solar power accessories. Carmanah is a publicly traded company, with common shares listed on the Toronto Stock Exchange under the symbol "CMH". For more information, visit www.carmanah.com.
Featured Product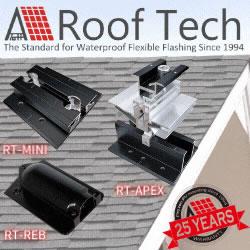 Now Roof Tech brings you the most innovative, watertight mounting systems ever developed for solar photovoltaic systems. Designed and manufactured exclusively for us by Japan's longtime leader in roofing technologies, Roof Tech products are 100% code-compliant and offer fast, simple installation and huge savings on shipping costs due to their compact, rail-less design. Learn more about our full line of versatile PV mounting solutions now available for residential installations. The next generation in rooftop solar mounting solutions."