Enables the safe connection of DC electronic devices to a DC micro grid powered by high efficiency DC sources.
Anderson Power Products, a leader in the design and manufacture of interconnect solutions, announces the launch of the Saf-D-Grid Ultra Short Receptacle. The Saf-D-Grid connection system protects the user from DC arcing during mating and unmating. This innovative design enables the safe connection of DC electronic devices to a DC micro grid powered by high efficiency DC sources. Saf-D-Grid meets international safety requirements for hazardous, low voltage applications per UL1977 and IEC 61984, as well as touch safety requirements of UL60950 and IEC60950. The new APP Saf-D-Grid Ultra Short Receptacle minimizes space requirements within the device and enables solder termination.

Rated for DC applications up to 600 volts and 20 amps, the APP Saf-D-Grid Ultra short receptacle is designed to replace the IEC320 C14 AC inlet connector. Having the same height and width as the C14 AC inlet, the APP receptacle snaps into the standard 19.9mm by 26.8mm panel cut out. The length of the receptacle is longer than a C14 inlet to provide touch safety, voltage clearance, and DC arc protection.
About Anderson Power Products®
Anderson Power Products® is a leader in developing high quality, low cost, power interconnect solutions for industries including: Back Up Power Systems, Electrical Vehicles, UPS Systems, Telecommunications High-Technology Devices and Alternative Energy Solutions. Headquartered in Sterling, MA, Anderson Power Product's facility is ISO 9001:2008 certified and uses automated manufacturing to offer uncompromising quality. In addition, APP operates a distribution and assembly facility in Warrington, England to provide support for their European customers, as well as three Asia Pacific facilities: Shenzhen, China, Shatin Hong Kong and Taichung City 407, Taiwan (R.O.C.).
APP® connectors are available through their authorized distributor network or direct from the factory. For further information about the company and its products, call 978-422-3600 or visit www.andersonpower.com.
Featured Product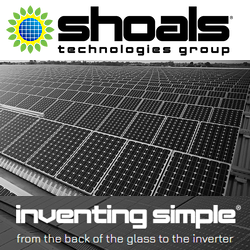 Inventing Simple® isn't just a slogan to us, it's a way of life. Using simple plug-and-play ideology, we revolutionized solar installations in 2003 with our Interconnect System™. Our harnessing system is now the gold standard EPC's use around the world. By using simple ideas, we are making solar energy a more affordable and clean power source for future generations.