Creotecc is currently in phase two testing with UL for an innovative, new module grounding solution.
Scotts Valley, CA – March 8, 2013

Creotecc is proud to announce their entire product line is now UL 2703 recognized for bonding and grounding. Rigorous materials and connection testing conducted by Underwriters Laboratory (UL) confirms that every connection within the Creotecc mounting system framework forms a safe and reliable bond with assured electrical continuity for the life of the system.
Through careful selection of component materials, Creotecc has incorporated UL 2703 bonding and grounding compliance with no additional grounding hardware. Racking installation with standard hardware alone achieves ultimate framework grounding.
UL 2703 combines UL, IBC, NEC and ANSI standards. UL 2703 compliance requires successful completion of an extensive array of electrical and environmental tests. The entire Creotecc product line was subjected to rigorous testing over a four month period.
"As national solar standards continue to become defined and adopted, Creotecc is proud to be an active member of the UL 2703 standard technical panel and lead the way with proactive safety testing of our equipment to the highest standards," says Creotecc Product Manager Rodger Petherbridge.
About Creotecc
With over 600 MW installed worldwide, Creotecc clamp-free mounting solutions for residential, commercial and utility applications are engineered to provide superior module retention without the use of clamps, thereby accelerating installation times and reducing labor costs. Creotecc has been a leading European mounting systems manufacturer for over a decade, and has offered its innovative product lines made in the USA since 2009.
Featured Product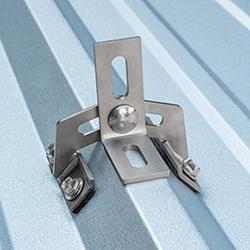 Error-Proof Compression: The QB2 doesn't leave any room for user error when it comes to Microflashing® compression. Once the Dual Drive Shoulder Screw is secured, the Microflashing® is compressed. Only 3 Components: The QB2 is comprised of Microflashing®, an L-foot and a Dual Drive Shoulder Screw. No more Nuts needed to tighten and secure the L-foot! Not only does this simplify the installation process, it also cuts down the installation time.