Power Electronics Innovator Takes Next Step Toward Making Digital Controllers Configurable, Price Competitive
SAN RAMON, Calif. (March 13, 2013) – Green Plug (www.greenplug.com), the first company to bring fully programmable mixed-signal controllers to the high volume AC-DC power converter market, today announced the availability of Greenscape™, an innovative GUI-based development platform that fosters rapid prototyping and tuning of designs, targeting competitively-priced controllers that are optimally sized for each application.

The company made the announcement on the eve of APEC, the Applied Power Electronics Conference and Exposition, in Long Beach, Calif. from March 17 through March 21. Green Plug licenses its technology to power supply designers and power IC vendors to create highly configurable controller platforms.
With Greenscape, developers can make real-time changes to key thresholds, set points, startup sequences, timing, switching frequencies and more. Users get all the features expected of a high-performance, mixed-signal programmable controller, on par with the cost of fixed-function controllers. The same controller can be adapted easily to different topologies, power ranges and designs.
As a result of programmable controller features, power supply designers can now collaborate with their power driver chip suppliers to optimize integrated power devices for their applications. Conventional methods have simply not allowed for this collaboration. Power supply designers have traditionally been able only to specify requirements and work around whatever chips their suppliers deliver to them that meet those requirements. Collaboration up-front is expected to improve the pre-manufacturing design process significantly. Post-chip manufacturing, the programmable interface will allow for an unprecedented level of rapid prototyping and tuning.
According to Green Plug CEO and founder Frank P. Paniagua, Jr., increasing complexity and shorter product development cycles have made it extremely difficult to optimize power supply designs for new products.
"Power supply designers would greatly benefit from flexible, configurable and adaptable control platforms, but their power IC suppliers offer such features only for the very high-end -- read: high-cost -- applications," Paniagua said. "With our introduction of Greenscape, Green Plug's library of configurable hardware blocks -- such as ADCs, PWMs, DACs, comparators and other building blocks – will serve power supply designers with tools to meet exact power supply requirements."
Green Plug is dedicated to advancing both the state of the art and the state of the market for programmable power controllers, where extreme price sensitivity has effectively stymied major leaps forward.
About Green Plug
Green Plug (www.GreenPlug.com) develops and licenses innovative technology that enables consumer electronics manufacturers to upgrade from traditional analog-controlled power adapters to "smart" digitally controlled systems that save power and dramatically speed product design and development. Green Plug is the first company to offer real-time programmable control for multiple control algorithms in a single-chip package at a cost-neutral price point, thus eliminating the major barrier to adoption in consumer AC-DC power converters. The company's patented mixed-signal technology provides unprecedented flexibility in design through software programming and also enables communication between electronic devices and their power sources – an important precursor to developing power products that leverage the Smart Grid. Founded in 2006, Green Plug is privately held and headquartered in San Ramon, Calif.
Featured Product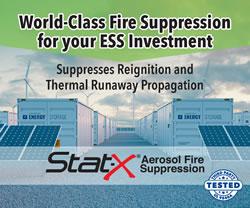 Stat-X® condensed aerosol fire suppression is a solution for energy storage systems (ESS) and battery energy storage systems (BESS) applications. Our Stat-X condensed aerosol fire extinguishing product was tested for efficacy in suppressing li-ion battery fires. It was found that the product successfully extinguished single and double cell battery fires. This testing was conducted in parallel with a large battery fire testing program on behalf of a large energy storage company.