Siemens wind training centers offering new GWO certified safety training ----- Further validates Siemens' commitment to highest industry standards ----- Siemens also offering this training package to third parties
Siemens Energy has been granted certification by the Global Wind Organisation (GWO) for its training facilities in Denmark, Germany, the UK, and the U.S. The international industry certificate, granted earlier this year, empowers Siemens to educate and train wind energy workers according to the highest industry standards for basic safety training. Acting as chairman of the GWO steering group, Siemens has been at the forefront of developing standards for harmonized safety principles in the global wind energy business.

The GWO is a coalition of leading players in the wind energy market bringing together turbine manufacturers, owners and utilities. The aim of the GWO is to ensure that personnel working in the wind energy sector are trained to a risk-based safety level to face the challenges related to that particular work place. The organization has developed an international standard for basic safety training which covers: first aid, manual handling, fire awareness, working at heights, and, for offshore workers, sea survival training as well. The basic safety training standard was released in February 2012.
"This official accreditation from the GWO is a testament to the high priority Siemens places on safety and safety training, particularly within the fast-moving wind and wind service industry," said Tim Holt, CEO of Service Renewables, Siemens Energy. "Safety is a top priority at Siemens, fully integrated into the mindset of our wind service operations. Our commitment to meeting the industry's highest standards ensures our employees and our customers are receiving the very best in safety training at all our locations worldwide."
Siemens has wind training centers in Brande, Denmark, Bremen, Germany and Newcastle in the UK. The company's U.S. location is currently in the process of moving into new facilities in Orlando, Florida. Equipped with genuine wind turbine components – such as nacelles, training towers and blade parts – Siemens' wind training centers replicate 'real-life' field conditions and meet all GWO requirements. The training facilities were originally created to enhance the skills of Siemens' employees. Having obtained the GWO certification Siemens' basic safety training is now open to subcontractors and customers as well.
Siemens has a long tradition of training on a global scale and has made significant investments in its facilities to develop in-house learning and development capabilities. The company also provides technical training targeted at specific service and maintenance tasks in a wind turbine. Combined with the GWO basic safety modules, Siemens offers comprehensive training packages tailored to specific customer needs. In total, Siemens global training includes more than 100 safety and technical courses for servicing wind turbines. In its fiscal year 2012, Siemens provided approximately 2,400 hours of training to nearly 14,000 internal and external participants worldwide.
Wind power and wind power service are part of Siemens' Environmental Portfolio. In fiscal 2012, revenue from the Portfolio totaled about €33 billion, making Siemens one of the world's largest suppliers of ecofriendly technologies. In the same period, our products and solutions enabled customers to reduce their carbon dioxide (CO2) emissions by more than 330 million tons, an amount equal to the total annual CO2 emissions of Berlin, Delhi, Hong Kong, Istanbul, London, New York, Singapore and Tokyo.
Featured Product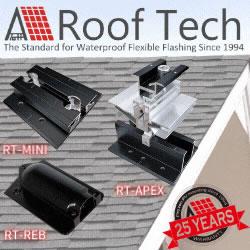 Now Roof Tech brings you the most innovative, watertight mounting systems ever developed for solar photovoltaic systems. Designed and manufactured exclusively for us by Japan's longtime leader in roofing technologies, Roof Tech products are 100% code-compliant and offer fast, simple installation and huge savings on shipping costs due to their compact, rail-less design. Learn more about our full line of versatile PV mounting solutions now available for residential installations. The next generation in rooftop solar mounting solutions."