New Online City Building Game to Engage Nation's Youth on Energy Solutions
WASHINGTON—March 18, 2013—National Geographic, GE (NYSE: GE) and the Center for Science, a national network of leading science centers, today released Plan It Green: The Big Switch (planitgreenlive.com), a new, free-to-play online city building game that enables players to design their own virtual city and build it into the greenest, most energy-efficient metropolis in the world. The game is part of Connect! Transform the Future, a new national initiative designed to engage, enlighten and educate the nation's youth in a conversation about the future of energy.

Plan It Green, which was created by developer Wyse Games, challenges players to test their design skills by building and customizing their own city. Players rack up points for eco-friendliness, energy production and overall citizen happiness while competing with friends and other city "mayors" for the highest city rating.
"Students learn at home and through school how important recycling and eco-friendly habits are to their environment, but Plan It Green takes these lessons a step further," said Chris Mate, vice president of Games for National Geographic. "Through gameplay that is smart, fun and intuitive, players discover what it takes to build and run a community. By creating more energy-efficient neighborhoods, they reduce their town's impact on its environment and create happier, stronger communities. In doing so, they can associate the choices they make on Plan It Green with choices they or their own communities make in their everyday lives."
Plan It Green will help to increase understanding and awareness of energy issues and give players the power to make better, more informed choices about the efficient use of energy. The game is part of a growing trend that employs digital gaming to engage players around important social issues.
"At GE, our engineers and technologists are working each day to improve the efficiency and value of our nation's energy infrastructure," said Steve Bolze, president and CEO of GE Power & Water. "In Plan It Green, we wanted to create a way for energy consumers, particularly young people, to better understand our energy system and learn what they can do to help create strong, thriving communities. Today's young people will be tomorrow's engineers, utility executives and energy consumers. We have a responsibility to help them create our best energy future."
When players visit planitgreenlive.com, they begin building their own city and earning credits to build houses, businesses, energy stations and community resources like parks, bike paths, organic farms and wildlife preserves. Players advance through game levels by creating a diverse power portfolio and improve their town's energy efficiency by implementing smart energy technologies. Achievements and continuous play help players earn credits to beautify and improve the existing infrastructure of their town and expand their city limits.
"The Center for Science brings together leading science centers from across the country and partners like GE and National Geographic to work collaboratively on programs that further the understanding of science and technology," said Carol Valenta, chief scientific officer at the Saint Louis Center, a founding partner of the Center for Science. "Our first project is a youth initiative called Connect! Transform the Future, and what better way to launch it than with a game that does a terrific job of popularizing serious environmental and energy-efficiency issues and presenting them to kids in an easy, bright and interesting way?"
Plan It Green is the first program of Connect! Transform the Future and will be followed by a short Digital 3D film, teacher workshops, interactive educational materials and exhibits and programs at local science centers. The suite of educational outreach materials also launches this month and is designed to engage teachers and inspire students to learn more about the future of energy.
About the Center for Science
The Center for Science is a national, collaborative network focused on integrating and leveraging all available resources to advance science and technology understanding. The Center for Science was launched by six visionary science centers, including the Saint Louis Science Center (St. Louis, MO); the Center of Science and Industry (COSI) (Columbus, OH); the Maryland Science Center (Baltimore, MD); the Museum of Science and Industry (Chicago, IL); the Pacific Science Center (Seattle, WA); and the Reuben H. Fleet Science Center (San Diego, CA).
About GE
GE (NYSE: GE) works on things that matter. The best people and the best technologies taking on the toughest challenges. Finding solutions in energy, health and home, transportation and finance. Building, powering, moving and curing the world. Not just imagining. Doing. GE works. For more information, visit the company's website at www.ge.com.
Follow GE Power & Water on Twitter @GE_PowerWater.
About National Geographic
The National Geographic Society is one of the world's largest nonprofit scientific and educational organizations. Founded in 1888 to "increase and diffuse geographic knowledge," the Society works to inspire people to care about the planet. National Geographic reflects the world through its magazines, television programs, films, music and radio, books, DVDs, maps, school publishing programs, exhibitions, live events, travel programs, interactive media and merchandise. National Geographic magazine, the Society's official journal published in English and 37 local-language editions, is read by more than 60 million people each month. The National Geographic Channel reaches 440 million households in 171 countries in 38 languages. National Geographic Digital Media receives more than 25 million visitors a month. National Geographic has funded more than 10,000 scientific research, conservation and exploration projects and supports an education program promoting geography literacy. For more information, visit www.nationalgeographic.com.
Featured Product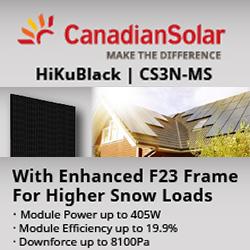 Aesthetic appearance for residential systems: With black backsheet & black frame, Power range 380 ~ 405 W, Low power loss in cell connection. Enhanced reliability: · Low temperature coefficient (Pmax): -0.34 % / °C, LID LeTID less than 2.0%, Lower hot spot temperature, Better shading tolerance.