A new survey of attitudes towards energy in Scotland has found strong support for renewables.
Findings of a YouGov poll suggest 62 per cent of Scots would be generally for large scale wind projects in their local council area, more than double the number (24 per cent) who said they would support shale gas, and almost twice as much as nuclear (32 per cent).

It was an even more positive outcome for hydro power which scored top with 80 per cent of those surveyed saying they would be generally for a large scale hydro project in their area, considerably more than other forms of generation such as gas (42 per cent), oil (37 per cent) and coal (34 per cent).
Overall, renewables scored highly in people's opinions of what single energy source people wanted to receive their electricity from and which type of large scale energy project they would be happy to have with their local council area.
Results of the YouGov poll will be published later today (Mon 18 March) at the Scottish Renewables Annual Conference in Edinburgh.
The poll, commissioned by representative body Scottish Renewables, found more than three-quarters (76 per cent) of those who took part in the survey would prefer to see the majority of their electricity come from low carbon sources. Renewables performed strongest with hydro once again being the most favoured energy source (27 per cent) followed by wind, solar and nuclear. Fossil fuel based generated sources such as coal and gas each received just three per cent of the vote and shale gas was favoured by just 1 per cent.
Responding to the new poll results, Niall Stuart, Chief Executive of Scottish Renewables, said:
"The poll suggests a significant majority of people in Scotland are in favour of renewable energy, including when people were asked about developments in their local area.
"It is encouraging that when people were asked by YouGov about a range of energy sources the majority consistently chose renewables.
"The poll also suggests a group of people that oppose wind power, and other renewables, are a minority.
"While this polling evidence doesn't mean that every renewable scheme proposed should be approved, it is important that people bear this research in mind when debating the pros and cons of the differing choices that Scotland could make to meet its future energy needs."
Mr Stuart argued that the results show that people in Scotland understand the benefits that the renewable energy industry is delivering:
"It appears that people recognise that renewables plays to many of Scotland's strengths, crucially our outstanding natural resources and the long and proud legacy of our energy industries – coal, then oil and gas, and now renewables.
"I think that people also understand that we are delivering. Renewables generated more than a third of the electricity used in Scotland last year, supports more than 11,000 jobs, and are helping to cut harmful carbon emissions.
"What other industry can help us tackle climate change while creating jobs and investment on the scale of our renewable energy industry?"
Other findings from the poll suggested 64 per cent of those who took part in the survey said they supported the 'continued development of wind power as part of a mix of renewable and convention forms of electricity generation.' A further 20 per cent disagreed with this and 3 per cent didn't know.
More than two-thirds (69 per cent) said their decision to visit an area of Scotland would not be affected by the presence of a wind farm.
The Scottish Renewables Annual Conference, being held at Edinburgh International Conference Centre, is expected to attract up to 1,000 delegates over two days. The event includes a keynote speech from Ed Davey, the UK Secretary of State for Energy and Climate Change.
Featured Product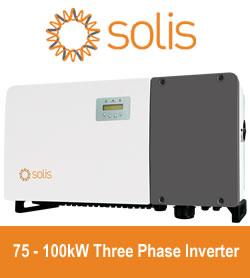 Solis75kW - 100kW series high-power string inverters are widely used in industrial and commercial rooftops. Solis's new three-phase string inverter is the first choice for industrial and commercial photovoltaics. 75-100kW three phase series string inverter have Maximum 28 strings input, support "Y" type connection in DC side. Maximum string input current 13A, support bifacial modules access.Supports anti-PID function to improve system efficiency.