"The wind power projects will enable both countries to take advantage of their massive renewable energy potential to help meet unmet demand for electricity"
WASHINGTON, D.C. – The Board of Directors of the Overseas Private Investment Corporation (OPIC) today approved a total of $288 million in financing for two wind power projects poised to deliver much-needed electricity to Pakistan and Peru.

"The provision of clean and reliable electricity is an essential building block of any economy," said OPIC President and CEO Elizabeth L. Littlefield. "The Board today affirmed OPIC's commitment to support efforts by Pakistan and Peru to diversify their energy production to include important contributions from renewable energy sources."
"The wind power projects will enable both countries to take advantage of their massive renewable energy potential to help meet unmet demand for electricity," Ms. Littlefield continued. "We are thrilled to partner with innovative U.S. companies to bring these highly-developmental projects to realization."
Pakistan
A $95 million OPIC credit facility will help build a 50-megawatt wind power plant in southeastern Pakistan's Ghoro-Keti Bandar Wind Corridor designed to generate 133 gigawatt hours of emission-free electricity annually. Using General Electric Wind turbines, the Sapphire Wind Power plant supports a mutual U.S.-Pakistan goal to diversify Pakistan's power generation beyond reliance on high-priced fuel oil by tapping Pakistan's vast renewable energy potential. A recent study funded by the National Renewable Energy Laboratory and the U.S. Agency for International Development estimates that Pakistan possesses 132,000 MW of potential installed wind capacity – virtually equal to the world's entire installed wind capacity for 2010.
Peru
A $193 million OPIC loan will support a 114 MW wind power project in Peru, the first large-scale wind project linked to the country's power grid. Comprising two wind parks on Peru's Northwestern Pacific coast, the project's 62 wind turbines will provide vital energy for a nation that has enjoyed strong economic growth during the past decade but lacked the energy investment to match it: from 2000 to 2010, electricity demand grew by more than 70 percent while installed capacity grew by only 40 percent. When added to two 40 MW solar projects that OPIC's Board approved in 2011 and 2012, the project puts OPIC at the vanguard of renewable power deployment in Peru. ContourGlobal, a New York-based international power generation company with approximately 3000MW in operations in 15 countries, is the U.S. sponsor of the project. OPIC is already partnering with ContourGlobal on projects in Nigeria, Togo and eastern Europe.
About OPIC:
OPIC is the U.S. Government's development finance institution. It mobilizes private capital to help solve critical development challenges and in doing so, advances U.S. foreign policy. Because OPIC works with the U.S. private sector, it helps U.S. businesses gain footholds in emerging markets catalyzing revenues, jobs and growth opportunities both at home and abroad. OPIC achieves its mission by providing investors with financing, guarantees, political risk insurance, and support for private equity investment funds.
Established as an agency of the U.S. Government in 1971, OPIC operates on a self-sustaining basis at no net cost to American taxpayers. OPIC services are available for new and expanding business enterprises in more than 150 countries worldwide. To date, OPIC has supported more than $200 billion of investment in over 4,000 projects, generated an estimated $75 billion in U.S. exports and supported more than 277,000 American jobs.
Featured Product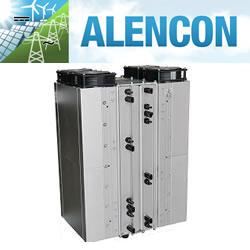 Alencon Systems is the premier manufacturer of high power, high voltage DC:DC optimizers for alternative energy applications including solar, battery energy storage, Microgrids, Fuel Cells and Electric Vehicle charging. Alencon's DC:DC converter offerings include the SPOT, BOSS and CUBE series DC:DC converters. The SPOT is a modular, uni-directional DC:DC solution ideal for solar applications. The BOSS is a modular, bi-directional unit for use with battery energy storage. The CUBE is a monolithic DC:DC converter which is available in both uni-directional and bi-directional modalities. Pictured above, is the Alencon SPOT.