Leading Distributed Energy Provider Expects to Create Hundreds of Jobs in Las Vegas area
LAS VEGAS--SolarCity® (NASDAQ: SCTY), a leading provider of clean energy, announced that it plans to open a new location in Nevada, and expects to create hundreds of jobs in the state in the next several years. SolarCity's expansion is due in large part to the efforts of Governor Brian Sandoval and the Nevada Office of Economic Development.

"The approval today of SolarCity's Catalyst Fund application, represents the successful collaborative effort that took place between local, regional and state economic development agencies," Governor Brian Sandoval said. "I am excited to welcome SolarCity to the Nevada family."
The new location will initially house new expansions of key administrative divisions, including portions of the company's sales, asset management and customer care groups. SolarCity's first solar projects in the state are also underway—the company is building more than 100 solar projects in Nevada housing communities in partnership with Shea Homes.
"SolarCity is changing the way families and businesses across the country can benefit from clean energy and I am pleased that such an innovative company is coming to Nevada," said Nevada Senator Harry Reid. "I was able to help pass an eight-year extension of the federal tax credits for residential and commercial solar installations in 2008 which has been instrumental in creating jobs across Nevada and the nation. I hope that SolarCity's expansion will help Nevada create the regulatory and business certainty needed to continue to take advantage of Nevada's abundant solar energy resources."
Nevada receives among the greatest amount of direct sunlight of any state in the U.S. Though Nevada hosts a handful of large solar power plants, the state's potential for distributed residential and commercial solar power generation is largely untapped and has tremendous room for growth.
"With its solar resource, Nevada has an opportunity to be a national leader in distributed renewable power generation," said Lyndon Rive, CEO of SolarCity. "We expect today's announcement to initially create more than 100 jobs, but a sustainable local solar industry could create thousands of jobs. We hope to partner with the state and industry to create the business and regulatory certainty that can pave the way for a thriving local solar economy."
SolarCity is currently scouting locations in Nevada and expects to begin hiring soon. Candidates can email SolarCity directly about employment opportunities in Nevada at jobs@solarcity.com.
About SolarCity
SolarCity® (NASDAQ: SCTY) provides clean energy. The company has disrupted the century-old energy industry by providing renewable electricity directly to homeowners, businesses and government organizations for less than they spend on utility bills. SolarCity gives customers control of their energy costs to protect them from rising rates. The company offers solar power, energy efficiency and electric vehicle services, and makes clean energy easy by taking care of everything from design and permitting to monitoring and maintenance. SolarCity currently serves 14 states and signs a new customer every five minutes. Visit the company online at www.solarcity.com and follow the company on Facebook & Twitter.
Featured Product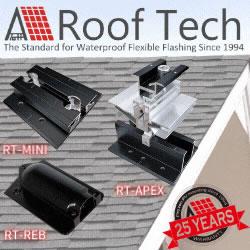 Now Roof Tech brings you the most innovative, watertight mounting systems ever developed for solar photovoltaic systems. Designed and manufactured exclusively for us by Japan's longtime leader in roofing technologies, Roof Tech products are 100% code-compliant and offer fast, simple installation and huge savings on shipping costs due to their compact, rail-less design. Learn more about our full line of versatile PV mounting solutions now available for residential installations. The next generation in rooftop solar mounting solutions."