Point Roberts, WA - March 22, 2013 (Investorideas.com Newswire, www.water-stocks.com) Investorideas.com, an investor research portal specializing in sector research for independent investors, issues a snapshot for water stocks trading for UN World Water Day.
Point Roberts, WA - March 22, 2013 (Investorideas.com Newswire, www.water-stocks.com) Investorideas.com, an investor research portal specializing in sector research for independent investors, issues a snapshot for water stocks trading for UN World Water Day.

Join Investor Ideas Members to access the Renewable Energy stocks directory, water stocks, biotech stocks, defense stocks directories and the Insiders Corner
Investorideas.com is a go to destination for investors, featuring a comprehensive list of globally listed water stocks. Investorideas.com was one of the first retail investor sites covering water stocks and has interviewed some the leading experts in the sector including Neil Berlant.
Mr. Berlant noted today, "In spite of all the progress that has been made in the past 50 years, the world remains perilously close to crisis in that there are still many regions with severe shortages of clean, healthy water. This is difficult to reconcile when, today, we have the capability to produce virtually unlimited quantities of high-quality water at reasonable prices. With desalination, today, we can tap all of earth's oceans and provide all the water needed. The impediments are not technological, but rather unwieldy bureaucracies and powerful, entrenched players, reluctant to give up their hold on power. Let's hope that this World Water Day 2013 brings about a change and opens the taps to plentiful supplies of water the world over. Only a lack of will prevents this from happening."
Water Stocks Snapshot
Aqua America Inc. (NYSE:WTR) is trading up at $30.64, gaining 0.23 of 0.76% as of 11:11AM EDT on over 74,000 shares.
American Water Works Company, Inc. (NYSE:AWK) is trading at $40.95, up 0.34 or 0.84% on 141,000 shares as of 11:10AM EDT
California Water Service Group (NYSE:CWT) is trading flat at $19.00, with an earlier high of $19.86 on volume of 119,000.
Middlesex Water Co. (NasdaqGS: MSEX) is trading down on light volume, at $19.50, down 0.05(0.26%) 10:39AM EDT
Primo Water Corporation (NasdaqGM: PRMW) is trading down at $1.124, down 0.0259(2.25%) at 11:02AM EDT, with an earlier high of $1.17
Neil D. Berlant
Partner, Crowell, Weedon & Co.
Since 1968, Neil has been continuously involved in the investment banking industry, either as a principal, officer, or founder of several firms. He has supervised and initiated the publication of numerous investment research reports on the water industry and conducted conferences directed towards top corporate management, the investment community, and venture capitalists. He has been a speaker at conferences on topics ranging from financing, to business and investment opportunities in the water industry. In addition, he has consulted to Fortune 500 companies and participated in negotiations concerning mergers, acquisitions, and venture capital investments. He is quoted frequently in newspapers including the Wall Street Journal, The New York Times, Los Angeles Times, Investor's Business Daily, and frequently appears on CNBC and other stations.
Research water stocks with the water stocks directory at Investorideas.com
Investorideas.com currently offers one of the most comprehensive water stock directories available to individual investors, listing over global 360 stocks in a PDF format.
http://www.investorideas.com/Water-Stocks/Stock_List.asp
About InvestorIdeas.com:
Investorideas.com, one of the few investor research portals that covers the water sector, has partnered with well- known water expert, Neil Berlant to build on and enhance its current online services. Investorideas.com and www.water-stocks.com will continue to showcase public companies online, publish press releases, write commentary on stocks in the sector and interview leading experts. Mr. Neil Berlant will create a new division for institutional and accredited investor introductions to qualified water companies.
Future plans also include water investment conferences, both live and online and water stocks research in the form of a newsletter to subscribers.
Sign up for the free investor news and stock alerts at Investorideas.com
http://www.investorideas.com/Resources/Newsletter.asp
Become an Investorideas.com Member and access our 14 online stock directories 24/7 - water, renewable energy, mining stocks and more…
http://www.investorideas.com/membership/
Disclaimer/ Disclosure : The Investorideas.com is a third party publisher of news and research Our sites do not make recommendations, but offer information portals to research news, articles, stock lists and recent research. Nothing on our sites should be construed as an offer or solicitation to buy or sell products or securities. This site is currently compensated by featured companies, news submissions and online advertising.
800-665-0411 - Source - www.Investorideas.com
Featured Product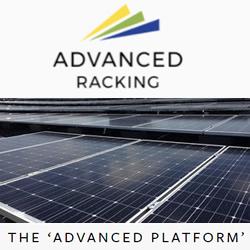 The 'Advanced Platform' simplifies the installation process by using universal mounting hardware that works perfectly across all roof types. Smart roof connection kits then connect to the specific roof's surface. The Advanced Platform is versatile: Our common design can be your single solution for all roof types.