Cost Containment International, LLC announces they have achieved their sustainability goal of using green power to meet 100% of their electricity use. Now qualified for EPA 100% Green Power Partnership.
LAKE GENEVA, Wisconsin – March 25, 2013 – Cost Containment International, LLC announces their purchase of 25 Renewable Energy Certificates (RECs), helping C2 Intl. achieve their sustainability goals; the use of green power to meet 100% of their company's electricity use. In so doing, the company has earned qualification as an EPA 100% Green Power Partner.

"This purchase is part of our mission to support the continued development of renewable energy," said Hans Herrmann, President of Cost Containment. "Our purchase of the environmental attributes of 25 megawatt hours of renewable energy generation equates to 27,972 pounds of CO2 NOT being produced."
27,972 pounds of CO2 or 25 RECs is equivalent to the emissions from 1,422 gallons of gasoline consumed, the emissions from 529 propane cylinders used for home barbeques, or the greenhouse gas emissions avoided by recycling 4.8 tons of waste instead of sending it to the landfill.
A single Renewable Energy Certificate (REC) is created for every 1,000 Watts of electricity generated by a renewable resource. As the accepted way to track and trade the green attributes of renewable energy, RECs have become the "currency" of renewable electricity and green power markets. RECs allow renewable energy generators to take the environmental attributes of green energy; i.e. – the greenhouse gas and pollution NOT emitted during generation, and sell it as a secondary product separate from the electricity itself. RECs are used to provide proof of qualification for various government compliance standards and green certifications such as LEED and EPA's Green Power Partner.
Cost Containment's RECs are Green-e Energy certified, ensuring each REC is closely monitored and verified, guaranteeing that every kilowatt hour of electricity purchased is generated from a renewable resource. The RECs were purchased from Community Green Energy, LLC and are sourced nationally.
Cost Containment International, LLC is an energy and sustainability consulting firm, providing expert energy consultation and services to help residents and companies obtain competitive pricing and satisfactory contract items. Their services extend to electric, natural gas, telecom, credit card processing, water, waste and recycling.
Community Green Energy has been a leading energy efficiency project developer since the early 1980's, developing and financing renewable energy and energy efficiency projects nationwide. CGE projects include community solar gardens, Virtual Solar PPAs, Community Choice Aggregation for sustainable communities, RECs, and energy performance contracting.
###
Featured Product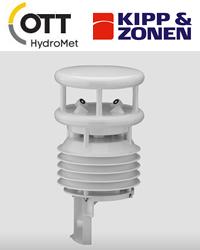 The WS50PV is an affordable, compact all-in-one weather sensor measuring the most critical parameters for commercial and industrial PV monitoring. Equipped with a suite of professional measuring sensors, the WS50PV can handle air temperature, relative humidity, barometric pressure, wind direction, and wind speed in one efficient housing to simplify mounting. Add an external temperature or rain sensor to the single-wire digital Modbus interface for fast and easy integration. The WS50PV is the tool you need for unlocking solar energy performance.